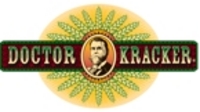 "Opening the doors to our new bakery embodies our commitment to running a company that is nutritionally, socially and environmentally responsible."
Plano, TX (PRWEB) September 16, 2010
Today, Doctor Kracker, artisan flatbread and cracker company, based in Dallas, Texas, announces the opening of its new Plano, Texas bakery that is the first in the nation to use Ecoblock technology. The technology comes from Germany and is designed to reduce the bakery's impact on the environment through its heat-recovery capabilities. The heat, captured via the Ecoblock technology, will be recycled within the bakery to generate hot water, heat proof boxes and run part of the air conditioning and water chilling systems. As a result, Doctor Kracker's new bakery projects an overall reduction in energy use that also translates to lower emissions. Savings will be approximately 15 percent of the estimated electrical usage.
"Opening the doors to our new bakery is a thrill for us as it embodies our commitment to running a company that is nutritionally, socially and environmentally responsible," said George Eckrich, co-founder of Doctor Kracker. "The new bakery opening is also exciting as it will create 15 new jobs in the Plano area."
Through the Ecoblock technology, the new bakery is reducing the amount of carbon dioxide it is releasing into the air. Carbon dioxide is a principal byproduct of baking bread and is a key factor in helping bread get its spongy texture from yeast, converting glucose into equal parts of ethyl alcohol and carbon dioxide. The familiar smell of bread baking is the oxidation of the ethyl alcohol as these gases are released during heating. Additionally, other gases produced in the baking process, including ozone and particulates are removed through the Ecoblock system. The bakery's exhaust returns to the environment as clean as the air that was introduced into the bakery.
Further, the new bakery strikes a fine balance between the true craft of artisan baking and next generation baking technology. This synergy between this innovative technology and preserving Doctor Kracker's artisan baking heritage is achieved at the Plano bakery, marrying hundreds of years of hands-on baking experience with technology that allows for greater production and efficiency. In union with the new automated baking systems, Doctor Kracker's artisan bakers can continue their craft but now yield a little extra help from a technology that promises to keep the crackers consistently delicious and unique.
On October 4th, Doctor Kracker will be hosting a ribbon cutting ceremony at 11:00 a.m. at the bakery located at 1100 Klein Road Suite 200 Plano, TX followed by a tour of the facility for members of the press. For more information on attending, please contact Margaret Jackson at mjackson(at)cerconebrown(dot)com
Doctor Kracker products are available in flavors including Pumpkin Cheddar, Klassic 3-seed, Seeded Spelt, Seedlander, Cherry Semolina, Apple Crisp, Fire Roasted and Hummus Maximus, there's a cracker for every critic. For more information please visit: http://www.drkracker.com.
###