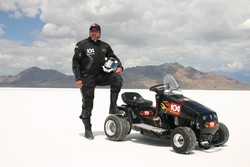 "I've been waiting for this." - Bobby Cleveland (Original and former World's Fastest Lawnmower Driver)
Chicago, IL (PRWEB) September 16, 2010
Former World's Fastest Lawnmower driver Bobby Cleveland – Gold Eagle® Co.'s Engine Answerman - who set the original land speed record on July 4, 2006, is gearing up his 104+® riding lawnmower to reclaim his title at the Bonneville Salt Flats in Utah, the weekend of Sept. 24-26. In May, British driver Don Wales (on behalf on Project Runningblade) took the title by going 87.833 mph at the Pendine Sands in Wales – beating Cleveland's record of 80.792 mph. Cleveland was in attendance to see his record broken, and to cheer on his British counterpart. Cleveland is confident he can win back his title of World's Fastest Lawnmower, bringing the 'prize' back to the USA.
Gold Eagle Co. created a site (http://www.willbobbygo100.com) where people can guess how fast Cleveland will go. The winner will be awarded a cash gift card and other prizes. The site also houses various related video clips and information – including footage of Cleveland setting the record in 2006, interviews with his friends/family and more.
"I've been waiting four years for this," said Cleveland. "That's' why I was excited about Project Runningblade's attempt, as it gave me an excuse to go back to the Salt Flats. I'm pretty sure I can go AT LEAST 90 mph, but would love to make it to 100, or even 104. I invite everyone to come out and cheer me on in September - the 'mow' the better!"
Gold Eagle® Co. is the manufacturer of leading brands including STA-BIL® Fuel Stabilizer, HEET® Gas-Line Antifreeze, NO-LEAK® Treatments, 104+® Octane Boost, Start Your Engines® and DieselPower!® Diesel Additives. Details on the full line of Gold Eagle products can be obtained at http://www.goldeagle.com, calling 800-621-1251 or writing Gold Eagle Co. at 4400 S. Kildare Ave., Chicago, IL 60632.
###