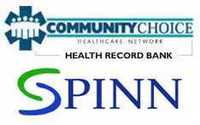 "Through this free PHR, people will be able to store information from any of our participating 5 hospitals and 10 clinics and will have access to their information anytime, anyplace." Jesús Hernández, CCHN's CEO
Ann Arbor, MI (PRWEB) September 15, 2010
Community Choice Healthcare Network (CCHN), a leading healthcare consortium located in Central Washington State, today announced that it is now live with its updated Community Choice Health Record Bank (CCHRB) using SPINNphr from White Pine Systems, LLC (White Pine) and Microsoft HealthVault. White Pine is a leading provider of personal health applications and solutions at the heart of Patient-Centered Connected Health. Microsoft HealthVault is a personal health application platform designed to put consumers in control of their health information.
"We are thrilled to be working with White Pine and Microsoft to offer the people in our state this exciting new healthcare system," said Jesús Hernández, CCHN's CEO. "Through this free PHR, people will be able to store information from any of our participating 5 hospitals and 10 clinics and will have access to their information anytime, anyplace. It also allows them to securely keep track of information from home monitoring devices like scales, blood pressure monitors and glucose meters. The use of these chronic disease management tools is a big part of improving healthcare at a lower cost. The combination of SPINNphr and Microsoft HealthVault gives us exactly what we've been looking for…a robust user friendly utility"
SPINNphr, White Pine's flagship offering, is a Personal Health Record built to connect with Microsoft HealthVault. SPINNphr is a privately brand-able, configurable Personal Health Record that can be configured according to each person's unique health/medical concerns, whether those be diabetes, COPD, anticoagulation therapy, pregnancy, fitness etc. These personalized views are referred to as "Care Units."
SPINNphr also includes a number of unique functions and features that give new value to consumers and caregivers including an automated notification feature that sends a message to family or caregivers any time a member's emergency medical information is viewed.
"We contacted White Pine in April, 2010, after exploring various options over the last year and half," said Hernández. "They had a demo site up in less than 30 days that addressed all our concerns, and we were live in about three months. Now we're working on the next phase. The SPINNphr application is just what we needed."
"We are honored to be a part of the CCHN Health Record Bank solution," said Doug Dormer, White Pine's founder and CEO. "Washington State is on the forefront of healthcare information technology. Their innovative model for information exchange and consumer access has the potential to empower consumers, reduce healthcare risks and lower cost. This is a model that will be followed across the nation.
About White Pine Systems, LLC
White Pine Systems, LLC is a privately held company based in Ann Arbor, Michigan. Its flagship product, SPINNphr, the Secure Personal Information and Notification Network, is a low cost, fully configurable, private-labeled, PHR solution that improves letter among patients, healthcare providers and the patient's extended network of official and unofficial care givers. Built to connect with the Microsoft HealthVault personal health information platform, SPINNphr bridges the gap between EMR systems used by providers and emerging PHR platforms to achieve the promise of patient and family-centered chronic disease management. SPINNphr connects family, guardians and healthcare providers through their own secure personal health network to deliver the right information any time, any place.
About Community Choice Healthcare Network
Community Choice is a healthcare consortium composed of regional healthcare organizations including five hospitals and 10 clinics with a total of 200+ physician members in North Central Washington. Community Choice is also a management support organization providing assistance in information technology implementation, recruitment of healthcare disciplines, HIPAA compliance training, cultural competency in healthcare, and overall leadership in keeping up with the constantly changing healthcare environment.
###