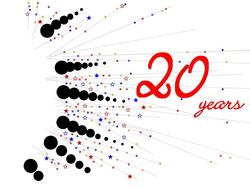 Given the difficult state of the economy, 20 is a big number for a business and it is something worth celebrating.
Coopersville, MI (PRWEB) September 16, 2010
There has been talk about the hard times people and businesses have faced throughout Michigan. Despite these economic challenges, a company of mold and die components, known as SelfLube, is a business fortunate enough to have dodged these hardships. Through hard work and "we are here for you" attitude towards their customers, they have reached a personal milestone in their company's history.
On September 24, SelfLube will be celebrating 20 years of business and will be having an open house to commemorate their years of hard work and service. The big bash will take place in house at 526 O'Malley just off I-96. H'orderves will be supplied by Above and Beyond Catering services and will be accompanied by a variety of jazzy music provided by Diverse Sounds of West Michigan.
To help celebrate they have invited friends, family, vendors, and most importantly their customers and affiliates. "Given the difficult state of the economy, 20 is a big number for a business and it is something worth celebrating. It is important to us that our customers and affiliates be involved and we encourage they join us in celebrating, since they have all helped us get to this point," explains Jordan Bock SelfLube's Marketing Specialist.
The company was established in 1990 when engineer and owner, Phil Allor purchased used machinery and began producing self lubricating wear plates, hence the name SelfLube. The self-lubrication comes from graphite, a solid lubricant, which is similar to the lead of a pencil.
The solid lubricant is embedded into each part in the form of graphite plugs, which look much like black polka dots. When you rub it, it feels slippery, which is exactly the quality of what self-lubricating components need and is utilized in the SelfLube process. With a self-lubricating component, upkeep and maintenance is made easier, therefore making it a popular choice in the mold and die industry.
In addition to the company and it's products, Sales Manager, Greg Kirchhoff says, "The secret of SelfLube's success in hitting the big 20 is its ability to change with the needs of its customers." The company has extended invitations to family, friends, the community, and most importantly its customers in order to help them celebrate.
SelfLube is a US based manufacturer of precision mold and die components such as Bushings, Gibs, Wear Strips, Parting Line Locks, Lifter Slides, and related items - about 7,000 standard part numbers in all, many of which are self-lubricating. The company sells directly to build shops through North America, which results in both better pricing and better customer service. Its record for on time delivery is among the best in the industry. SelfLube is a successful growing company and is now in its 20th year of providing superior value to its customers.
###