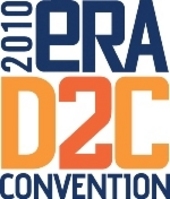 Arlington, VA (PRWEB) September 15, 2010
The Electronic Retailing Association is ready to break records at the 2010 ERA D2C Convention, taking place September 21-23, 2010 at the Wynn Las Vegas. With already over 3,100 registered attendees, this year's show is on track to set a new attendance record.
"Our registration numbers are a strong indicator of the vitality of the industry, with more and more retailers embracing the powerful and accountable marketing methodology of direct response. Likewise, the numbers indicate that this year's show will be ERA's biggest and best to date," says Julie Coons, ERA president and CEO.
Last year's 2009 ERA D2C Convention was ERA's biggest annual convention to date, with 3,200 professionals registered. With registrations still going strong this year, ERA projects attendance to hit 3,700 by the end the end of the show.
It's not too late to register and be a part of the premiere show for direct-to-consumer marketers. Register by midnight on Thursday, September 16 to save up to $200 on-site registration. After Thursday, you will only be able to register on-site.
About the 2010 ERA D2C Convention
The Electronic Retailing Association's 2010 ERA D2C Convention is the 20th annual show where the industry's top technology innovators, manufacturers, buyers and marketers meet to learn about the hottest trends in the direct-to-consumer marketplace and meet with partners and potential customers to seal critical business relationships. The event will feature more than 3,200 attendees and over 100 exhibitors, a variety of education sessions on industry related topics and expansive networking opportunities, as well as wide variety of events on the tradeshow floor. For more information, please visit http://www.D2Cshow.org.
About the Electronic Retailing Association
Representing a more than $300 billion market, the Electronic Retailing Association (ERA) is the only trade association in the U.S. and internationally that represents leaders of the direct-to-consumer marketplace, which includes members that maximize revenues through electronic retailing on television, online and on radio. ERA strives to protect the regulatory and legislative climate of direct response while ensuring a favorable landscape that enhances e-retailers' ability to bring quality products and services to the consumer. ERA members include some of the industry's most prominent retail merchants, including Allstar Products Group, eBay, Discovery Communications, Gaiam, Google, Guthy-Renker Corporation, HSN, Oak Lawn Marketing, QVC, Telebrands, ShopNBC and Thane. For more information about ERA, please visit http://www.retailing.org.
# # #