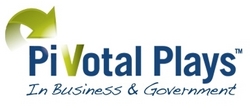 Pivotal Plays™ in sports are game-changing decisions backed by the drive and execution to make them a reality.
McLean, Virginia (PRWEB) September 16, 2010
MorganFranklin, a business consulting and technology solutions provider, announced today the debut of pivotalplays.com--a website designed to acknowledge significant decisions, actions, and impacts in business and government and the individuals that make them happen.
"Pivotal Plays™ in sports are game-changing decisions backed by the drive and execution to make them a reality," said Robert Morgan, CEO and co-founder of MorganFranklin. "Pivotal Plays happen in business and government as well, and often mirror some of the same ingredients found in sports--strategy, timing, teamwork, and skill. We see a parallel and want to recognize and promote the people and teams that make them by providing a little fanfare."
Examples of Pivotal Plays include:
•Innovative and successful strategies to grow and expand, manage, etc.
•Demonstrations of the power of teamwork and collaboration.
•Wise use of technology, processes, or management practices to implement improvements, transform, etc.
PivotalPlays.com will include regular announcements and examples of pivotal plays, as well as a featured Pivotal Play of the Month. The public is encouraged to submit ideas for pivotal plays to be featured on the website. The site will also include video sports highlights featured in MorganFranklin's ongoing Pivotal Plays advertising campaign.
In addition to the new website, MorganFranklin will recognize Pivotal Plays through numerous traditional and new media outlets, including the company's partnerships with Comcast SportsNet and sports radio WJFK 106.7FM in Washington D.C., and via social media channels Twitter and Facebook.
About MorganFranklin
Business and government leaders look to MorganFranklin when faced with high-stakes financial, operations, IT, and intelligence challenges. Our teams combine expertise in accounting and finance, operations and management, advanced technology, and systems with track records of performance in complex environments. The company serves a global client base from offices in Washington, D.C., Chicago, and London. Learn more at morganfranklin.com.
###