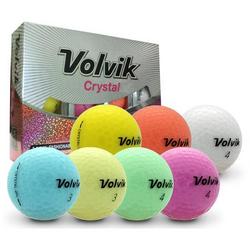 What we discovered in our research was the brand's great potential for growth with its other innovative products.
Lafayette, LA (Vocus) September 15, 2010
Volvik Golf Company, the Korean manufacturer of the popular Volvik Crystal line of translucent colored golf balls, has recently named Volvik Golf USA, http://www.volvikgolfusa.com, as its exclusive United States distributor.
Volvik, in existence for over two decades, has developed a reputation based on quality control and innovative development. The brand has held a niche in the U.S. golf market since 2005 with the low compression Crystal golf ball line, but parted ways with its former U.S. distributor early this year.
"We knew that the Volvik Crystal was a meaningful part of this country's golf ball sales, and the company already had an outstanding reputation for quality and technology," said Johnny Cox, Director of Sales for Volvik Golf USA. "What we discovered in our research was the brand's great potential for growth with its other innovative products."
Early sales of an original pallet of Volvik balls – the two-piece Crystal as well as specialized three- and four-piece balls – were successful, and Cox and his associates began talking in earnest about distribution after learning that the Volvik Crystal line achieved upwards of 1% market share in off-course golf shop sales for much of 2009. The newly-formed Volvik Golf USA, LLC, was granted exclusive U.S. sales rights in June of 2010.
The Crystal, which is available in eight different colors and is among the world's most popular colored balls, is joined in the Volvik line by a now-available three-piece Crystal, the Volvik Lady 350 designed for women golfers, the Volvik Bismuth high-performance three-piece ball, and the Volvik Pro Bismuth three-piece tour performance ball. Volvik now also features a four-piece tour performance ball, the Volvik Vista iV.
To reinforce its commitment to the U.S. golf market, Volvik this year signed several tour players to contracts. Those signees include LPGA standout Kyeong Bae, who finished in the top 12 in the Canadian Women's Open in August. She was also a Top 20 finisher in July's $3.25 million Evian Masters – one of the tour "majors" and the richest tournament on the LPGA Tour. Bae is playing Volvik's new Vista iV four-piece ball and the Vista iS while on tour.
"I've been using Volvik on the LPGA and Korean LPGA tours since November," Bae said. "I absolutely feel playing a Volvik ball has made me a better player this season. Besides it being a very consistent and responsive ball that goes where I want it to, it's fun because there are so many colors to choose from."
Volvik Golf USA made its first public appearance last month at the 2010 PGA Fall Expo at the Venetian Resort in Las Vegas, and plans to be a part of several upcoming major golf equipment shows and exhibitions.
The Volvik ball line is available through Roger Dunn Golf Shops, The Golf Mart, Van's Golf Shops and Golfers Warehouse with other leading retailers being added on a regular basis. The line is also easily available to consumers online at Amazon.com and Golfballs.com.
Retailers interested in carrying the new Volvik golf ball line can get more information at http://www.volvikgolfusa.com, by e-mail at Johnny(at)volvikgolfusa(dot)com or by calling 877-309-6459.
Noteworthy:

Volvik Golf USA, LLC is the exclusive distributor of Volvik balls in the U.S.
Volvik, Inc. is a Korean corporation that has been manufacturing performance golf balls since 1993.
Volvik owns no less than 33 patents involving golf ball material, structure and dimple design.
###