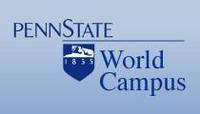 University Park, PA (Vocus) September 15, 2010
Students enrolled in the iMBA program at Penn State's World Campus scored in the top 10 percent on the most recent ETS Master of Business Administration (MBA) Major Field Test, a comprehensive national assessment for program evaluation.
Students from the Fall 2008 cohort of this online program, who graduated on Aug. 14, earned a mean test score that placed the Penn State iMBA Program in the 90th percentile of 230 institutions nationwide.
In total, 16 of the 60 Penn State iMBA students who took the Major Field Test scored at or above the 90th percentile of the 24,785 students who took the exam. Penn State iMBA students' mean score was 261—total scores for the MBA test are reported on a scale of 220 to 300.
Administered by Educational Testing Service—the same company that creates the SAT, GRE and AP exams—Major Field Tests measure students' mastery of particular areas of study. The MBA Major Field Test consists of 124 multiple-choice questions, half of which are based on short case-study scenarios. Most of the questions require knowledge of specific information drawn from marketing, management, finance and managerial accounting, or a combination of these disciplines.
Penn State's online iMBA degree is designed for managers who have work experience in fields such as business, engineering, health care and technology and seek to position themselves for growth in the global economic environment. The online iMBA curriculum is well suited for people with either business or non-business undergraduate degrees. For more information, visit the Penn State iMBA Web site or call 877-574-4622.
Penn State World Campus specializes in adult online education, delivering more than 70 of Penn State's most highly regarded graduate, undergraduate and professional education programs through convenient online formats. Founded in 1998, Penn State World Campus is the University's 25th campus serving more than 9,600 students in all 50 states and 62 countries. For more information, visit Penn State World Campus online. Penn State World Campus is part of Penn State Outreach, the largest unified outreach organization in American higher education. Penn State Outreach serves more than 5 million people each year, delivering more than 2,000 programs to people in all 67 Pennsylvania counties, all 50 states and 114 countries worldwide.
# # #