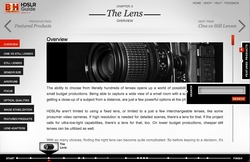 New York, NY (Vocus) September 15, 2010
Finding the right HDSLR and learning how to use it can be daunting. That's why B&H is launching a dynamic and comprehensive online guide to help you choose an HDSLR—and get great results once it's in your hands.
The B&H HDSLR Guide is an in-depth interactive examination of HDSLRs. Learn about sensor size, resolution, file compression, ISO, depth of field, frame rates, field of view, video modes, and more. Compare features and specs and read professional analysis on the latest gear. When you've found the camera that's right for you, learn about accessories like tripods, video stabilizers, audio gear, and external monitors.
Getting the gear is only the beginning. The B&H HDSRL Guide features detailed information on shooting video. Master camera controls and overcome the limitations of capturing video with HDSLRs. With expert tips and techniques, you'll be shooting like the pros.
With HDSLRs, getting professional results takes more than point-and-shoot or even pro photography skills. Videographers need to understand HDSLR limitations to avoid quirks like the rolling shutter Jell-O effect, moiré, and color inaccuracies. They may also need various stabilizers and support gear to get truly cinematic footage.
The B&H HDSLR Guide will help you find the best camera and gear for your needs, whether you're a studio photographer or extreme sports videographer. And when you've found the right one, we'll help you get great results. It's all part of our commitment to superior customer service and support.
About B&H
B&H is world renowned as the place for all your Photo, Video and Pro Audio. Our goal is to make customers feel comfortable and satisfied with their experience. Our commitment to sales quality and customer satisfaction is second to none. We encourage our customers to experiment with equipment, ask questions, and discuss their needs without sales pressure. At B&H, our sales and support teams are dedicated to helping the customer find the right equipment for their needs
B&H Photo Video http://www.bhphotovideo.com/
For more information about the B&H HDSLR Guide, contact Henry Posner at posner(at)bhphotovideo(dot)com
###