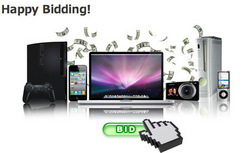 BiddingRivalry.com is the new breed of penny auction. No bots that will try to outbid players. Their timer does not reset , unlike other penny auctions out there.
Boynton Beach, FL (PRWEB) September 17, 2010
Say goodbye to bidding woes! Play at Bidding Rivalry Penny Auction http://www.BiddingRivalry.com and get rid of the fear of going empty handed, despite placing lots of bids. This new penny auction site doesn't have bots and the timer does not restart to raise the bidding to extraordinary levels of bidding amounts.
What's in Store At Such Auctions?
Gadgets are the buzz word of today. Everyone wants to buy that dream Nokia handset, or the touch-screen cell phone. Not Everyone cannot make big bucks, enough to buy such expensive items like an iPhone or an iPod , it's time for everybody to try BiddingRivalry. The items start at a meager $0.01 (one cent) And they cover a wide range of products like laptops, home theater system, car audio, video games and so forth. These items are provided by top brands like Samsung, Gateway, HP, and Apple for bidding on the site . Or then players can also choose from such accessories like LCD TV, HD TV, GPS, Louie Vuitton Bags and even a makeup kit or perfume. The list seems to be endless.
Most penny auction sites offer bidding in which the other bidders or computer bots try to outbid other players by placing new bids which results in increased time of bidding. However Bidding Rivalry Penny Auction uses a different strategy. Their timer does not restart like it does in the case of other penny auction sites. On many such sites the timer keeps on going back because of their bots. A bid bot is a computer program that places bids on several items or only one item but again and again in an attempt to outbid legitimate players. However in the case of this site, they put a check on bidding by way of putting a reserve price. If the price is not met, they will return all purchased bids. The timer is usually scheduled to stop at 11 PM EST When the timer reaches 0 and provided that nobody else bids, the last bidder will win that item for the amount of the current bid . Usually the bid amount in such cases is about 90 percent off the retail price which means a lot of savings for players. Also, if players decide they still want that item... players have the option to buy the item minus their purchased bids.
How to Play Well
It's not an easy task to play on such bidding sites, and if members play their cards well, then they have a great chance on winning the item. What matters most is to practice in a strategic way to win the last bid. The most popular way is to win a bid package and thus increase the number of bids. The idea is to use bids to increase the bidding amount rather than solid bucks out of your pockets to buy bids. And why won't you risk a small amount to get a possible large payout?
Well there would be very less harm if players put their collected bids on such appliances like a Sony SLR Camera, or a Nintendo Wii at a Bidding Rivalry Penny Auction. There are more such items like all in one computer, iPad, camcorder, webcam, mp3 and even a coach bag that may be currently bidding as low as $12 or something! So get to it today and start bidding , but with caution and clever thinking.
About Bidding Rivalry Penny Auction
Bidding Rivalry Penny Auction is an auctions site that allows players to bid for items without the fear of getting outbid by bots. Their auctions ends at 11pm EST and players can even get back their bids back if the reserve price is not met.
To know more about Bidding Rivalry Penny Auction Site visit http://www.BiddingRivalry.com.
You can also follow them on facebook, twitter, or youtube.
###