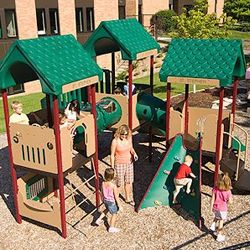 Delano, MN (PRWEB) September 16, 2010
Groveland Elementary School in Minnetonka, Minn., just recently celebrated the grand opening of their new school playground from Landscape Structures. Referred to as the "green, fit and fun playground" by school officials, Groveland's school playground promotes health and encourages all children to play longer with its inclusive play design.
As the new school year kicks into high gear, the days of never-ending swimming, biking and trips to the playground have come to an end. Schedules are becoming busier for children and families because of homework, after-school programs and other extracurricular activities. But in order to teach children about building and maintaining a healthy lifestyle, parents and teachers must find ways to work activity and exercise into busy schedules, and school playgrounds are just one of the ways to do this.
There are many ways to encourage healthy lifestyles for children and families. The following ideas are just a start, but they are sure to help children feel better and grow stronger throughout the school year:

Exercise together. Put together a family basketball game, play football in the yard or take a community education fitness class.
Schedule activity and exercise time. Instead of going to a movie, go to the zoo. It's a great place to walk and learn.
Take up a new sport. Bowling, ice skating, broomball, water polo, golf—the choices are limitless!
Plan active vacations. A warm-weather destination can provide swimming, seashell hunts and hiking, while cold weather offers skiing, snowshoeing and even building snow forts!
Play. Local parks and school playgrounds offer lots of activities— swings, slides, climbing walls and more— for parents and children to get exercise.
Landscape Structures Inc. is a Minnesota-based commercial playground equipment manufacturer specializing in school playgrounds. Innovative playground products from Landscape Structures offer many ways for children to stay healthy. Click here for more ideas to keep children fit, and search Landscape Structures playground designs.
###