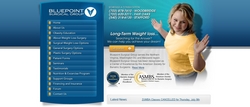 Stafford, VA (Vocus) September 15, 2010
In support of bariatric surgery in Northern Virginia, the Bluepoint Surgical Group is presenting a weight loss informational event for current and potential weight loss patients. The Healthy Living Expo will consist of learning sessions concerning nutrition and exercise associated with weight loss surgery, as well as tours of the surgical facilities, and a 'Look at Me Now' fashion show starring current patients at the Bluepoint Surgical Group. The Expo is scheduled to take place on Sunday, September 19, 2010 from 11 am to 3 pm at the Hylton Education Center.
At the Healthy Living Expo, the bariatric surgeons at Bluepoint Surgical Group will also be raffling off an Ultimate Makeover for one lucky attendee. The winner of the Ultimate Makeover, pending insurance approval for the surgery, will receive pre and post-surgery nutrition services, a year's worth of vitamins, counseling and exercise programs, a post-surgery makeover, and a professional photo shoot, among a number of other benefits and services. The entire Ultimate Makeover package from the Bluepoint Surgical Group is worth over $2,500. Those in attendance can receive two entries by pre-registering for the Expo, otherwise one raffle entry will be given per on-site registration. The winner will be announced after the Healthy Living Expo. While the winner does not have to be present to claim the Ultimate Makeover, attendance at the Healthy Living Expo is required.
The Bluepoint Surgical Group's team of professionals offering surgical weight loss options in Northern Virginia will be on hand to meet with patients, explain the variety of procedures offered, such as the gastric bypass, the gastric sleeve and the LAP-BAND® System in Washington DC, and provide a demonstration of the group's latest technological addition, the new da Vinci® robotic surgery system in Washington DC. In addition to the educational sessions centering on healthy eating, appropriate exercise programs, vitamin supplements, and accompanying plastic surgery options, the Bluepoint Surgical Group will also be serving refreshments and giving away a Wii Fit to help jump-start one patient's weight loss journey.
The Healthy Living Expo is open to anyone interested in learning more about the following topics: weight loss surgery and related plastic surgery procedures to re-contour one's body after weight loss; the overall treatment process; and the bariatric and weight loss surgeons of Bluepoint Surgical Group in Northern Virginia.
About Bluepoint Surgical Group
Bluepoint Surgical Group is comprised of general and bariatric surgeons, a registered dietician, a nurse practitioner, and other medical professionals. The practice has been designated as a Center of Excellence for Bariatric Surgery by the American Society for Metabolic and Bariatric Surgery. The doctors at Bluepoint Surgical Group say they focus on complete patient care by addressing all of the concerns that can accompany dramatic weight loss in an effort to streamline the process and ensure the greatest chance for success and patient safety.
Bluepoint Surgical Group has three locations: Fair Oaks Professional Bldg., 3620 Joseph Siewick Dr. Suite 200 in Fairfax, VA 22033, available at (703) 620-3211; Woodbridge Professional Bldg., 2280 Opitz Blvd. Suite 320 in Woodbridge, VA 22191, available at (703) 878-7610; and Stafford, 125 Hospital Center Blvd. Suite 207 in Stafford, VA 22554, available at (540) 318-6135. All three locations can be found online at http://www.bluepointgroup.com/
# # #