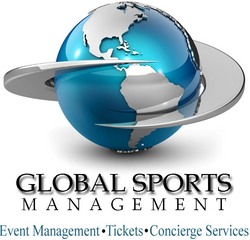 "I am thrilled to have established these relationships and look forward to building a significant Sports & Entertainment company servicing many major US clients and growing Global Sports Management into a major sports marketing company in the coming years
Duluth, GA (PRWEB) September 16, 2010
Global Sports Management & Ticket Max announced today that it has entered into a partnership with CSTT Sports Management International and is recognized as a Georgia corporation under the corporate name Global Sports Management, LLC. (GSM). http://www.1GlobalSports.com
Ron Foster, the Chief Executive Officer,will continue to serve the company in the areas of sales, marketing and operations. As a result of this partnership, Mr. Foster has appointed Gary Curgin President of North America. Mr. Curgin has been in the sports management business for over 15 years and has built and maintained a successful sports management business working with Minor, National and World Sport Governing Bodies offering organizations a free travel service while giving back over $3,000,000.00 in sponsorship. Most recently, Ron Foster served as the President of SportsQuest, Inc., a sports holding company, which was a wholly owned subsidiary, entertainment & hospitality company publicly traded. Mr. Foster has served as CEO and President of GSM since its founding and has 17 years of experience in GSM's main core business. GSM, a privately held company, provides celebrity appearances and events, hospitality & ticket packages to major sporting events, sports marketing, and event management services across the United States and Canada. GSM has launched its 2010-2011 initiatives from their office in Atlanta, Georgia. GSM has additional satellite offices in Miami FL, Tallahassee FL, San Jose CA and now London, Ontario, Canada.
In a downturned economy Mr. Foster needed to be creative in order to build and grow a business that could be competitive while providing a quality program that helps its clients meet their objectives. To achieve these goals it was decided to develop a partnership program that would allow other established sports and event organizations to capitalize on all of GSM's services in order to grow their core business while maintaining relationships with current clients. This formula has proven to be the right model for GSM and its new partners. In addition to its primary partnership CSTT Sports Management International, GSM has finalized agreements with several other organizations like GameTime Events, Pesavento Productions and Goalline. These organizations will be resellers and manage the satellite offices established in final agreements.
GSM has also added a new service that is forcasted to be a great asset not only to the company, but to any current and potential clients. The new eLayaway program will allow all GSM clients to put a deposit on the program they choose and provide them with payment options in order to purchase a program/package over time that they may not normally be able to afford. The new service has opened opportunities and gained new clients for GSM. The eLayaway payment option also give GSM clients more flexibility to develop internal programs for their clients and sales representatives in order to conduct more business and increase the bottom line.
In addition to the new services, GSM and CSTT have an established relationship with Intercontinental Hotel Group (IHG). This lucrative relationship allows GSM to provide top quality, three to five star properties like Intercontinental and Crown Plaza, in all the GSM programs giving clients an established high end property while maintaining a fair market value while still providing a better program than the competition. GSM is currently in discussions with the IHG Sports Division regarding several other sports initiatives. They are also in negotiations with a facility management company, Global Spectrum, in order to provide suite and luxury seat holders new options on GSM's services.
Please look for future announcements and press releases regarding GSM events like the Celebrity Invitational Tour and Pro Golf Tour scheduled to start in March of 2011. http://www.celebritytour.org
About Global Sports & TicketMax :
Global Sports Management is a Sports Marketing Firm and specializes in Executive Concierge & Event Management services. GSM handles every aspect in facilitating your attendance at corporate or personal events, as well as any major sporting events, domestic or international. In addition, we work closely with corporations and individuals to plan and implement any type of program, be it sports related or purely business related. We have extensive experience in the areas of event marketing and executive management ranging from small outings to large conferences. The three primary divisions of GSM provide services in Sports Marketing, Event Management and Executive Hospitality.
In order to provide our clients with even greater benefits, GSM now offers a new complete National Ticket Agency named TicketMax and has a new web-site at http://www.1ticketmax.com allowing our clients to attend those events that are "sold out" or where tickets are virtually unattainable. Need to make an impression, chose TicketMax for your next show, concert or sporting event.
# # #