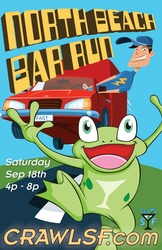 "CrawlSF events allow San Francisco residents as well as visitors from all over the nation to experience our very diverse neighborhoods in a unique way
San Francisco, CA (PRWEB) September 15, 2010
What started as a small local pub crawl has evolved into the largest Pub Crawl in San Francisco with more than 1500 participants in 2009. Following the success of last year's event, CrawlSF is hosting the Eighth Annual North Beach Bar Run on September 18. The event will increase exposure and business for North Beach bars, restaurants, and boutiques by bringing people from all over the Bay Area into North Beach for the afternoon. Participating merchants in this year's event include the Northstar Cafe, The Boardroom, O'Reilly's, Tony Niks, Savoy Tivoli, Mojito, Maggie McGarry's, Grant and Green, Gino and Carlo, Columbus Cafe, Giordano Bros, Dell 'Uva and more!
The concept is simple for this event; pick up a wristband at the Northstar Café and then make your way through North Beach's 15 participating bars and restaurants while enjoying some amazing food and drink specials. Thanks to sponsorships by Miller-Coors, Red Bull, Pinchit, Bartab and Devotion Vodka; Pre-sale ticket holders will be entered to win some amazing local prizes such as tickets to the sold out Arcade Fire show at the Greek Theatre in Berkeley, tickets to see comedian Aziz Ansari at The Fillmore as well as restaurant gift certificates and t-shirts. Pre-sale tickets are available here
CrawlSF has been producing large scale events for over 8 years in San Francisco. Some notable events in the past year include: A Nightmare on Van Ness with LMFAO, The Streets of San Francisco New Years Eve Event at Fort Mason Festival Pavilion, San Francisco Mardi Gras at Ruby Skye, The San Francisco Vintner's Market and many more. The North Beach Bar Run will also help introduce San Francisco's newest music festival, The Summersalt Music Festival (http://www.summersaltsf.com) as well as help to launch the new San Francisco-based website, http://www.Pinchit.com.
Matt Seliga started CrawlSF in 2002 soon after moving to San Francisco from the East Coast. As with many entrepreneurs, Seliga's hobby soon became a full time business. "I started producing some small events to help me meet people in my new city, but my career was in Biotechnology" stated Seliga, who previously sold products for DNA testing to Crime Labs "I never would have dreamed it would have ended up like this." He was intrigued by the differences between all of the neighborhoods in San Francisco and started developing events to accent what makes San Francisco special. "CrawlSF events allow San Francisco residents as well as visitors from all over the nation to experience our very diverse neighborhoods in a unique way." This weekend's event will be no different as an estimated 2000 people will get a true taste of North each at the 8th Annual North Beach Bar Run.
For more information, please go to http://www.crawlsf.com.
Contacts:
Matt Seliga
(415) 515-5222
CrawlSF/Seliga Promotions
###