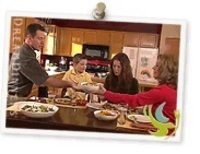 We believe the longterm benefits of sharing meals together far outweigh the hurdles of trying to pull dinner together.
Seattle, WA (PRWEB) September 15, 2010
Dream Dinners, the country's leading meal assembly service, is encouraging families nationwide to mark their calendars for National Family Day on Monday, Sept. 27. National Family Day was created to encourage families to dine together and realize the benefits of more shared meals – including health and developmental benefits – which closely aligns with Dream Dinner's mission.
"There are always going to be things on the to do list that seem more important than sitting down for dinner, but we believe the long-term benefits of sharing meals together far outweigh the hurdles of trying to pull dinner together," said Stephanie Allen, President and co-founder of Dream Dinners, a place where people can go and easily assemble meals to freeze for busy weeknights. "As a mother myself, I designed Dream Dinners to help take the hassle out of meal preparation so families could simply enjoy each other's company more often."
Recognizing the challenges of getting the family together for meals around the dinner table, Dream Dinners has created a special site with family meal time tips at Facebook.com/DreamDinners. Top tips include:
1. Mark it on the Calendar. Writing it down on the calendar reinforces to the family dinner is a priority and an important obligation that shouldn't be set aside.
2. Assign Roles. Give everyone in the family a role so they feel like they are an important part of the dinner process, whether it's clearing the table, setting the plates or cleaning up.
3. Teachable Moments. Involve children in the cooking routine by having them assemble simple side dishes like rolls or simple salads.
4. Keep it Light. Save the lectures for another time and keep dinner conversation light by asking open-ended questions that encourage participation like "What were the highs and lows of your day?" or "If you could invite three famous people to dinner, who would they be?"
5. Take a vote. For a family of picky eaters, allow your family to choose the entrée for the evening. With Dream Dinners, the family can view the monthly menu options and help order those they want the most.
National Family Day was started by CASA (The National Center on Addiction and Substance Abuse) in 2001 to remind parents of the many benefits of sharing meals together. According to the Journal of the American Diabetic Association, children who eat more meals at the dinner table are less likely to be overweight and thus, less likely to develop Diabetes at a young age. Additionally, a study published in The Archives of Pediatrics and Adolescent Medicine, found frequent family meals led to better grades and lowered risk of smoking, drinking, using marijuana and depressive symptoms among teens.
And to encourage American families to try Dream Dinners for National Family Day, first-time customers will receive a free meal when they purchase six three-serving meals for just $75. For store locations, visit DreamDinners.com/locations.
"We're proud Dream Dinner already serves more than 800,000 meals each month, but there are millions of families still eating unhealthy meals on-the-go," said Allen. "Our goal is to inspire even more parents to prioritize family meals and there's no better time to start than National Family Day."
Dream Dinners locations offer a "fix and freeze" model where guests assemble the meals of their choice at stations complete with all ingredients and the recipe. In about an hour's time, busy parents can assemble enough meals for an entire month and take the stressful planning out of dinner.
For more mealtime tips, visit Dream Dinners on Facebook at http://www.facebook.com/dreamdinners.
ABOUT DREAM DINNERS
Founded in 2002, Dream Dinners, Inc. is the recognized originator of the $170 billion meal assembly industry. Headquartered in Snohomish, Wash., Dream Dinners locations provide guests' monthly menus to select from, then procure and prepare all ingredients in advance, so guests can assemble dozens of meals in about an hour, then take home to freeze. With more than 110 franchises in 30 states, Dream Dinners saves its guests both valuable time and money, and focuses on bringing families back to the dinner table with healthful, delicious and easy-to-fix meals. http://www.DreamDinners.com
###