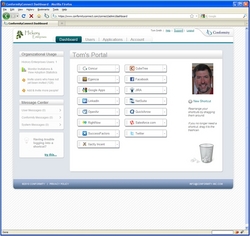 We are highlighting this new cloud-based SSO approach with the combination of a 50-user free license and our 30-minute deployment promise.
Austin, TX (PRWEB) September 16, 2010
Conformity, a leader in cloud identity management, announced today the release of its ConformityConnect product. ConformityConnect is a painless, secure single sign-on (SSO) product that can be deployed across an organization in less than thirty minutes and supports browser-based applications. Conformity also announced that business organizations may use ConformityConnect for up to fifty users free of charge.
Today organizations increasingly rely on browser-based applications to plan and run their businesses. Many organizations use twenty or more of these cloud, SaaS, or on-premise applications, forcing company employees and contractors to create and remember 20+ username and password combinations. Faced with the complexity of securely managing all their passwords, users try to cope by using the same password repetitively across all applications or allowing the browser to cache and remember usernames and passwords for these applications. These coping mechanisms create significant security risks and forgotten passwords, resulting in increased help desk calls and lost productivity.
ConformityConnect is a single sign-on (SSO) cloud service built and optimized for small- to medium-sized businesses ranging in size from 5 to 3,000 employees. Company employees as end users of ConformityConnect need only remember a single username and password. ConformityConnect securely encrypts and stores the username and password information for each user for all browser-based applications, and then signs the user into each application with one click. Company administrators can set up ConformityConnect in less than 30 minutes, and the product runs as a maintenance-free, available-from-anywhere cloud service. Part of Conformity's identity management product family, ConformityConnect is the first step in satisfying access, provisioning, authorization, policy, and compliance issues within business settings.
Conformity also announced today that SuccessFactors has selected ConformityConnect to deliver secure, easy-to-use application access to its employees. SuccessFactors is itself one of the most successful cloud application providers for the business community, with more than 8 million end users and more than 1,000 employees internally. Companies using ConformityConnect gain a number of important benefits, including:

Improved Security – Eliminating the repetitive use of the same credentials and browser caching of credentials significantly improves the security of company applications and data. User credentials are encrypted in the cloud using a "trust no one" model, so that Conformity, the user organization's administrative staff, and malicious third parties cannot access or abuse these credentials. Additionally, the organization may assert password policies to automatically govern the degree of security enforced.
End User Convenience – Company employees and contractors are empowered to set up and maintain their credentials, so they are not dependent on IT staff to get started or to change their credentials at any time. Setting up secure credentials for an application is as simple as remembering the username and password one time for the application. Thereafter, the user can sign in to all applications using a single ConformityConnect username and password.
Use Anywhere Model – Because the product does not use or rely on cookies of any kind, it leaves no "footprints" and can be safely used from any computer or location without creating a security risk.
Ease of Administration – In addition to the thirty-minutes-or-less deployment process and the maintenance-free nature of the cloud service, administrators benefit from the employee self-service model of the product, as employees and contractors set up and maintain their own access to the organization's applications.
Customer Extensibility – End users or administrators of organizations can easily create custom application connectors – typically in less than 5 minutes – for almost any cloud or SaaS application the organization uses if the connector is not already provided by Conformity.
Improved Productivity – Employees no longer suffer lost productivity from forgotten passwords.
Reduced Help Desk Costs – Forty to seventy percent of help desk calls are typically generated by forgotten passwords, so ConformityConnect can significantly reduce help desk calls and costs.
Speed of Deployment – In contrast to traditional SSO solutions that are highly complex and costly, ConformityConnect can be deployed by an organization in thirty minutes or less.
To make it easy for businesses to experience these benefits, Conformity is making the first fifty users of the ConformityConnect product free for any business organization. Smaller businesses with less than fifty employees can gain the full benefit of the product at no cost, and larger businesses can set up the product in thirty minutes and deploy it to fifty of their employees to ensure it meets their requirements before adopting the product and upgrading to the paid version. Businesses interested in the free 50-user license may visit http://bit.ly/9tWbvY to set up an account for their organization and begin inviting their employees.
"Historically, single sign-on products have carried tremendous overhead in terms of the time, effort and expense required to implement and maintain these solutions. ConformityConnect embraces the cloud model to deliver the full benefits of SSO without the traditional cost and complexity," said Tom Smith, CEO of Conformity. "We are highlighting this new approach with the combination of the 50-user free offer and the 30-minute deployment promise, and we look forward to partnering with many business organizations to improve their security and productivity through ConformityConnect."
About Conformity
Conformity is a leading developer of cloud identity management products. ConformityConnect is a painless, highly secure single sign-on (SSO) cloud service that can be deployed in less than 30 minutes and supports a wide range of browser-accessed applications, including SaaS, cloud, or on-premise. ConformityCloud is a robust cloud identity management service that enables automated provisioning and deactivation of applications for employees and contractors, as well as critical compliance and security features related to managing roles, profiles, and policies. Conformity is a private company based in Austin, Texas. For more information about Conformity, please visit http://www.conformity-inc.com.
###