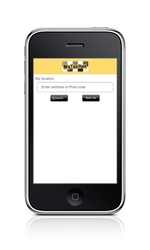 Our customers can now book a licensed taxi from any location; they can log their journey, which gives them peace of mind; and the real taxi firms out there can promote the legitimacy of their service by taking part in the scheme.
(PRWeb UK) September 20, 2010
The website, http://www.mytaxirank.com, was launched in July and is the UK's first national online taxi-booking service. The service is free to use – so there are no hidden network charges for ring-backs or SMS replies – and commuters simply enter their postcode, choose an available taxi firm and complete the online booking form. The taxi firm will then reply by email with details, which MyTaxiRank.com recommends should include the car registration, colour, make, model and a photo of the driver (but provision of details are at the discretion of the individual taxi firm).
But what happens if you are nowhere near a computer and want to order a taxi in the street?
The MyTaxiRank.com website is compatible with all mobile phones, and the service provider has created two new applications (apps.) for the iPhone, iPod Touch and iPad, which are free to download from the App. Store.
The first app., 'MyTaxiRank.com – Safe Taxi', was launched on 7th September and enables users to share details of their taxi journey with family and friends. Once the taxi's registration number has been entered, this clever piece of software automatically generates a message that specifies the pick-up time and location of the user (using GPS technology). This information can then be shared by email, text message or via Facebook and Twitter. Currently free for taxi firms to use, 'MyTaxiRank.com – Safe Taxi' not only helps commuters to feel safe (and is ideal if children are travelling alone), but also means taxi companies can add credibility to their service.
The second app., 'MyTaxiRank', is an extension of the service provided by the website and works in harmony with the 'MyTaxiRank.com – Safe Taxi' app. to ensure a safe experience for all taxi users. The app. has been available to download since 13th September this year, allowing users to book a taxi via their iPhone, iPod Touch or iPad whilst on the move.
###