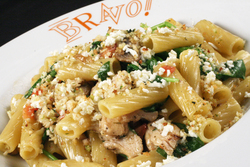 Columbus, OH (PRWEB) September 17, 2010
BRAVO! Cucina Italiana (BRAVO!), a BRAVO|BRIO Restaurant Group concept, marks the start of autumn with a crisp new Fall Feature menu beginning September 21, with seasonal specials such as the Autumn Chicken Salad, Pumpkin Crème Brulee and Apple Cider with Rum. The seasonal menu will be available through November 21.
Taste buds are treated to the Spicy Feta Dip with Pane Al Forno, a creamy blend of Feta, garlic, fresh herbs, spicy peppers and lemon with fresh bread baked to order in our store ovens, while guests "fall" for the Insalata Rustica, a perfect portion of Romaine, arugula and radicchio tossed with a zesty balsamic vinaigrette and this season's best selection of roasted tomatoes, fresh apples, dried cherries, spicy pecans and sprinkled with crispy Pancetta.
The notable Autumn Chicken Salad Sandwich is prepared with pecans, dried cherries, apples and celery on sliced whole wheat bread and served with seasoned Tuscan fries at lunch. Cozy up with Pasta Yandolino, in honor of Founding Chef Phil Yandolino, a savory pasta dish of rigatoni with chicken, sliced mushrooms, diced tomatoes, spinach and Feta topped with pesto bread crumbs.
No meal is complete without a perfectly-crafted cocktail. The Apple Cider Martini is a flavorful blend of Captain Morgan Spiced Rum, Brandy, and housemade apple cider served in a cinnamon sugar rimmed glass, making this martini the perfect fall treat. Warm up on cool fall nights with our Apple Cider with Rum, served hot with Captain Morgan Spiced Rum. Looking for a perfect wine pairing? Try one of the Sustainable Wine Flights, offered in White and Red, the perfect complement to these seasonal specials. Each wine included in the White and Red Flight is hand selected by in-house certified Sommelier & Specialist of Wine, Angelica Sbai.
BRAVO! Cucina Italiana is a casual, white-tablecloth restaurant offering classic Italian food amongst the shadows of Roman ruins. The subtitle "Cucina Italiana" means Italian kitchen, in which all cooking is done in full view of the guest, creating the energy of a live theater. BRAVO's popular entrees include grilled steaks, chops, and made-to-order pizzas, pastas and house specialties, similar to an authentic 'ristorante' in Italy. BRAVO! is part of Columbus-based BRAVOIBRIO Restaurant Group. Founded in 1992, BRAVOIBRIO Restaurant Group currently operates more than 80 restaurants including BRAVO! Cucina Italiana, BRIO Tuscan Grille and Bon Vie Bistro. Please visit the Web site, BravoItalian.com for a list of locations, and to follow the restaurant on Twitter and Facebook.
###