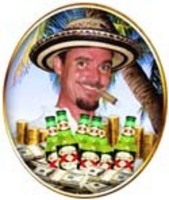 BIG John - Head Honcho If It Ain't BIG Bucks, It Ain't BIG John! www.JustAskBigJohn.com www.ExplosiveCashIns.com www.RapidProfitPro.com www.MySecretFormula.com www.PowerCashSecret.com
Sedona, AZ (PRWEB) September 18, 2010
'Big John' T. Bair, otherwise known as "The Most Interesting Marketer in the World," has announced his retirement from the online game. As a going away gift, he is sharing all of his stealthy email marketing secrets to those who seek them.
Big John, who is known worldwide from the Bahamas to Hong Kong to Sedona, Arizona, has developed a new money-making system that is sure to bolster his customers' profits like never before. With the Explosive Cash-Ins system, users can easily create new daily profit-pulling campaigns, build a huge cash flow completely on autopilot and improve profits by 800 percent or more – all by using Big John's secrets of email marketing.
"Many so-called seasoned Internet marketers have predicted the death of email marketing, but I challenge this baseless claim," Bair said. "I am here to prove that marketing through an ezine or newsletter is still the king of marketing online. These other companies are trying to trick you into abandoning your email campaign so that it lessens the competition as they continue to profit from this extremely effective method of getting sales."
The Explosive Cash-Ins System allows users to have their own super-charged, targeted email list just like the big Internet marketing companies. By using Big John's proven methods, users can make real money quickly and easily and join the financial elite with the click of a button.
As an email marketing system that is totally unique, ECI is stocked with hard-hitting sales copy that has been proven to be effective time and time again. Unlike other software, it will make users money the first time it is used and is sure to target responsive, hungry buyers.
"Let's face it, email will always be at the heart of it all," Bair said. "Facebook and other social media websites–which are the hottest sites on the web–all use email as a crucial foundation of their communications. With ECI, you can literally cash-in with a uniquely targeted email marketing campaign."
The ECI system also includes a step-by-step training video that guides the user through all of its tools and features. To learn more about this ground-breaking email marketing software, visit http://www.explosivecashins.com.
Please direct inquiries to:
John Bair
231-668-9489
whynot(at)justaskbigjohn(dot)com
###