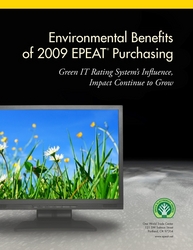 "These benefits reaffirm that the EPEAT system works exceedingly well to channel purchaser demand toward products with reduced impact on the planet, rewarding manufacturers for the vitally important work of creating and supporting those products."
Portland, OR (PRWEB) September 21, 2010
The 2009 EPEAT Environmental Benefits Report released today, shows the power of a great idea. Since launching in 2006, the EPEAT green ratings system (http://www.epeat.net) has effectively supported environmentally beneficial changes in IT product design and delivery, through growing global purchaser usage and manufacturer participation. The 2009 report underscores the significance of this growth, capturing the environmental benefits driven by EPEAT purchasing over the past year.
EPEAT registered notebooks, desktops, and monitors purchased worldwide in 2009 will, over their life, compared to the purchase of products not meeting system criteria:

Reduce use of toxic materials, including mercury, by 1537 metric tons, equivalent to the weight of nearly 800,000 bricks
Eliminate use of enough mercury to fill 372,000 household fever thermometers
Eliminate over 29,000 met¬ric tons of solid waste, equivalent to more than 14,500 U.S. households' annual waste
Reduce hazardous waste disposal by 72,000 metric tons
In addition, because EPEAT requires that registered products meet the latest ENERGY STAR® efficiency specifications, these products will consume less energy throughout their useful life than nonqualified products, resulting in:

Savings of over 10 billion kWh of electricity — enough to power 900,000 U.S. homes for a year
Reduction of over 2 million metric tons of greenhouse gas emissions — equivalent to taking nearly 1.4 million U.S. passenger cars off the road for a year
Avoidance of 44 million metric tons of air emissions (including greenhouse gas emissions)and over 93,000 metric tons of water pollutant emissions
"As a nonprofit organization, EPEAT's mission is to advance environmental improvement," said Jeff Omelchuck, EPEAT Executive Director, "These benefits reaffirm that the EPEAT system works exceedingly well to channel purchaser demand toward products with reduced impact on the planet, rewarding manufacturers for the vitally important work of creating and supporting those products."
These results are even more significant because EPEAT tightened its registration and sales reporting requirements in 2009. "To ensure consistent quality control throughout the EPEAT system, we moved from global registration to a country-specific registration model, " explains Omelchuck. "This allows us to more closely police registry claims and enables purchasers to more easily find registered products that are locally available." Sales reporting also moved to a country-specific model and only covers those countries where manufacturers have actively registered products.
This year's environmental benefits are the latest step in a steady progression for EPEAT. Since the system's launch in 2006, more than 317 million EPEAT-registered products have been purchased, with remarkable environmental benefits.: the equivalent of nearly 6 million U.S. homes' energy consumption saved; use of more than 8000 metric tons of toxic substances avoided; a reduction in greenhouse gas emissions close to 9 million cars' annual releases; and associated savings to manufacturers and users of more than $6.5 billion.
EPEAT's novel approach to environmental assessment includes ratings based on stakeholder consensus-based public standards and tiered rankings that encourage competition and continuous improvement. Pre-market declaration of environmental performance is subject to ongoing verification, and a single registry makes it easy to compare and select qualified products. These features make EPEAT the definitive tool for purchasers looking to reduce the environmental impact of their computing operations.
About EPEAT®: EPEAT is the definitive global registry for greener electronics, covering the broadest range of products (http://www.epeat.net/search.aspx) from the widest variety of manufacturers (http://www.epeat.net/companies.aspx). It is based on the IEEE-1680 family of public standards for environmental assessment of electronic products, with environmental performance criteria covering design, production, use and recycling. Products are rated EPEAT Gold, Silver or Bronze based on meeting 23 required criteria and a percentage of additional, optional criteria (http://www.epeat.net/criteria.aspx). Compared to conventional products, all EPEAT-registered computers have reduced levels of toxic material. They are also more energy efficient, reducing emissions of greenhouse gases, and are easier to upgrade and recycle. Manufacturers must offer environmentally responsible recycling options for all EPEAT-registered products sold on contract. For more on EPEAT criteria and qualified products, see http://www.epeat.net.
###