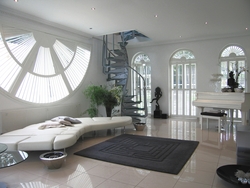 We are excited at bringing our latest ranges to one of the biggest exhibitions-you have to be there!
(PRWEB) September 17, 2010
The Appeal Group will be exhibiting their range of window furnishings at Stand G7 at the award winning Grand Designs Live Show held at the Birmingham's NEC.This exhibition is known for showcasing the latest in contemporary design and technology for the home and garden. The Grand Designs Live Show provides homeowners with the inspiration to turn their dream homes into a reality.
We, at The Appeal Group, feel that the Grand Designs Live Show is the perfect show to launch our newest range of window furnishings – North American Cedar Wood Shutters. Window shutters are growing in popularity amongst homeowners, as they are a chic and stylish alternative to more traditional window furnishings such as curtains. Shutters are a versatile product that can complement both traditional and contemporary interiors.
New for 2010 - Appeal's North American Cedar Wood Shutters
Appeal's range of fully bespoke shutters are handcrafted from North American Cedar wood – this premium quality wood was selected for its durability, lightness and strength. Cedar wood provides superior insulation and noise deadening effects, when compared to the cheaper alternatives. Cedar is an excellent thermal insulator helping to keep buildings cool in the summer whilst retaining heat in the winter. Once installed, Appeal's shutters will help to cut household energy bills – by keeping heat outside in the summer, whilst serving to insulate the room during the winter therefore reducing excessive heating demands in the room.
Appeal's made to measure North American Cedar wood shutters are available in four different arrangements – so our customers can choose the style that best matches their needs.
Full Height – Simple and elegant, these full height shutters cover the whole window. Louvers can be made in sets, providing flexibility when it comes to shading and privacy.
Café Style Shutters – A popular choice for town or city dwellers – these shutters are only fitted to the bottom half of a window. They provide privacy from the street yet still allow light to pass through the top half of the window.
Tier on Tier Shutters – Are in essence two sets of shutters installed into one window. This style is exceptionally versatile as it allows the top and bottom sets of shutters to be opened or closed independently.
Solid Shutters - Appeal's Solid Shutters add a period feature to the home and are similar to wooden panelling. When closed they provide a substantial deterrent to intruders.
Appeal's special slim lourve design makes it simple to control the light and shade in the room. When opened they allow in more light and give a clearer view. However for maximum privacy or to reduce noise, they can be closed completely.
Appeal's range of shutters are available in a wide choice of finishes, or they can be painted to custom colours (on provision of paint reference) to sit better with your existing interior colour scheme. Appeal's bespoke shutters are available in a huge array of shapes – curved, triangle, circles… virtually any shape is possible meaning that almost any window can have an Appeal Window Shutter fitted!
Appeal's Conservatory Blinds
Since 1988, The Appeal Group have manufactured and installed their fully bespoke conservatory blinds into homes nationwide. Appeal's expertise in design and innovation has helped them to become market leaders in this highly specialised market.
New for 2010 - Formerly the preserve of conservatories, and owing to popular demand Appeal's beautiful blinds are now available to order as high-performance and handsome blinds for windows throughout the home.
For the past 20 years, Appeal have been leaders in design, offering the widest choice of fully bespoke conservatory blinds including: Original French Pinoleum, Solar R®, Alu-Pleat®, Roller, Pleated, Venetian, Honeycomb, Honeycomb Blackout, Reflex and Stria blinds.
Appeal's range of conservatory blinds are available in a wide choice of colours and styles, tailor made to meet the individual needs of our customers. So you are able to create a beautiful room exactly to your individual taste.
Appeal's exclusive Alu-Pleat® and Solar R® blinds
In a recent survey conducted of conservatory owners, 81% said they used their conservatory daily since installing blinds, compared to only 24% conservatory owners without blinds. Conservatory blinds provide valuable shade and protection from the sun's intense rays, which would otherwise allow your conservatories to become victim to the extremes of the British climate.
Appeal's range of exclusive Alu-Pleat® and Solar R® blinds help to maintain a comfortable temperature all year round. In the hotter summer months, these high performance blinds reflect 85% of heat energy back outside – so your glass space does not become unbearably hot. Whilst in the winter months, these blinds help to insulate and retain warmth in the room thus reducing the need for excessive and expensive central heating.
Appeal's Original French Pinoleum blinds
We introduced Original French Pinoleum blinds to the market over 20 years ago and they continue to be the most popular choice for conservatory owners today! The popularity of our Original French Pinoleum blinds lies in their ability to soften the intense glare of the sun allowing only soft flecks of light to shine through transforming your conservatory into a beautiful oasis.
New for 2010 - Honeycomb, Honeycomb Blackout, Reflex and Stria Pleated blinds are the latest additions to the selection of blinds available from The Appeal Group.
Honeycomb and Honeycomb Blackout blinds
Honeycomb blinds have a white reflective exterior side, which softens the harsh rays of the sun allowing light to filter through into your conservatory or glazed extension.
Honeycomb Blackout blinds do not allow any light to pass through its aluminium foil interior, therefore prove to be a good choice for children's bedrooms. Honeycomb Blackout blinds are an excellent heat insulator, due to the cellular construction which is enhanced by the inherent insulating benefits of aluminium foil.
The key benefit of both the Honeycomb and Honeycomb Blackout blinds are that the cord holes are not visible making them more aesthetically pleasing. Available in 4 different colour-ways, these blinds are available for any size or shape side window blinds, as well as rectangular roof blinds.
Reflex and Stria Pleated Blinds
Both Reflex and Stria side and roof blinds are available for any size of shape window.
People often underestimate the vital part played by roof blinds in helping to regulate temperatures within a conservatory or glass space. Evidence shows that 70% of summer heat gain, and winter heat loss, occurs through the roof of a glass space.
Manufactured from a new type of fabric, Reflex blinds have a reflective yarn that is woven into the material as opposed to the traditional perlex reflective coating (which is applied to the fabric). This means these blinds will help to regulate the temperature within your conservatory therefore maintaining a comfortable temperature all year round. Perfect for contemporary interiors or a glazed extension, Reflex blinds are available in 5 different colour-ways and have a textured feel.
Stria blinds are currently available in 3 colours, its subdued texture gives the blind a natural appearance, allowing these pleated blinds to sit easily in a conservatory or garden room's existing interiors.
All of Appeal's conservatory blinds have the option to motorized – operating via a discrete remote control system. Appeal's PowerDrive blinds are often recommended when: the coverage is greater than 3.5m, the conservatory has a large number of blinds making manual operation a chore, for roof blinds that would otherwise have to be pole operated. Often customers choose motorized blinds purely for the convenience they provide. Using the latest technology from Somfy ( - the worlds leaders in motorized power drive units for automatic blinds) our motorized blinds provide the user with the flexibility to control shading in their conservatories with minimal fuss.
Appeal provides a full 5 years 'labour and parts guarantee' for its blinds and shutters – including motorized operating systems.
To find out more about products available from Appeal visit http://www.appealblinds.com or freephone on 0800 975 5757
###