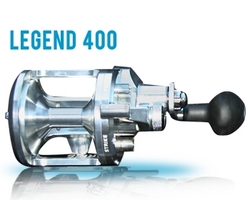 We believe the Legend Series is the best single speed fishing reel available and we're willing to back it up with the best guarantee in fishing...
Hoboken, NJ (PRWEB) September 16, 2010
Atlas Reel Company, LLC, a leading manufacturer of single speed saltwater fishing reels, has recently announced "The Best Guarantee in Fishing," and possibly in all of retail. Atlas is so confident in their product and accompanying guarantee that they have actually filed for a patent to protect the structure of the offer.
In addition to their industry standard product warranty for their acclaimed Legend 200 and Legend 400 saltwater reels, Atlas has rolled out their exclusive business process patent pending guarantee which states the following:
"Anyone who purchases a Legend Series Reel to receive the reel and try it out, if they are not satisfied with the reel quality we at Atlas Reels will take the reel back and authorized the purchase a replacement reel of a value of up to 10% greater than the reel purchased from Atlas. For a Legend Series exchange the customer must exchange their reel at the place of purchase and covers any brand's single speed lever drag model. The customer must make the decision to exchange the product within 6 weeks of purchase and return the reel in "new" condition as determined by the shop employees. The offer is void if there is any "policy abuse**" as deemed by the Atlas Reel Company."
The leadership team at Atlas Reels is confident that this exceptional offer provides consumers with complete confidence in purchasing their Legend Series reels and truly sets their company apart from even the largest competing manufacturers.
CEO of Atlas Reel Company, LLC, Bobby Bowden explains, "We believe the Legend Series is the best single speed fishing reel available and we're willing to back it up with the best guarantee in fishing which really makes a statement in how confident we are in Atlas' quality and performance—this guarantee does just that."
Atlas Reel Company recently introduced their first product line, The Legend Series regionally up and down the eastern seaboard and has received much acclaim from casual to competitive anglers, including winning several tournaments. Atlas Reels also donates a portion of all sales to organizations who are dedicated to preserving saltwater habitat and the rights of recreational fishermen.
About Atlas Reel Company, LLC:
Atlas Reels is dedicated to providing the highest quality fishing equipment to serious anglers. We strive to give our customers the best possible saltwater fishing experience while doing our part to promote the importance of preserving a sustainable fishing environment for years to come. Atlas donates a portion of all profits to organizations that are dedicated not only to preserving our saltwater marine habitat, but also to protecting the right of recreational fisherman to enjoy this habitat. For additional information please visit: http://www.AtlasReels.com.
Business contact:
Bobby Bowden
Atlas Reel Company, LLC
877-514-1277
Media contact:
Jason W. Jantzen
Phoenix Marketing Associates
http://www.PhoenixMarketingAssociates.com
602-282-0202
###