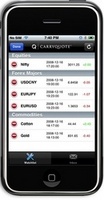 I have never in my investment career experienced a combination of threats and opportunities as intense as what we have now.
New York, NY (PRWEB) September 16, 2010
CarryQuote® A.G., a pioneer in integrated desktop and mobile financial information solutions, today announced that its director and co-founder Lars Tvede has been asked to speak at the Danish Shareholders Association 2010 Annual Investors Conference. The event will be held on September 30 at the Crown Plaza Copenhagen Towers in Copenhagen, Denmark. In a "fireside chat" format, Mr. Tvede will be joining Danish Shareholders Association CEO Charlotte Lindholm, as they discuss what they believe to be the greatest long-term investment strategies in the coming decades.
Mr. Tvede holds a Master´s degree in engineering, a Bachelor's degree in international commerce, and is a certified derivatives trader. After spending eleven years as trader, banker, and portfolio manager, Lars moved to the high-tech business area in the mid-1990s, where he co-founded and seed-funded a number of award-winning startup companies, including and most recently, CarryQuote.
"I have never in my investment career experienced a combination of threats and opportunities as intense as what we have now," commented Mr. Tvede. "I look forward to discussing what this all means and how to invest successfully now and in general."
"We are very pleased to have Lars Tvede participate in our conference," said Charlotte Lindholm, CEO of the Danish Shareholders Association. "As an investment strategist, Lars is well-known and highly-respected among our membership, as well as the investment community at-large, and I am confident that our discussion will prove to be a highlight of this year's programme."
The Danish Shareholders Association strives to promote shareholding and investment in general among private investors, and is one of the most active and influential Danish policy-makers and lobbyists for investment issues and stock market questions.
About CarryQuote
CarryQuote® (http://www.carryquote.com) offers an award-winning market data technology that delivers real-time financial market information and analysis across asset classes and geographies to mobile phones and desktops at a fraction of the price of other market data providers. CarryQuote provides real-time data from over 100 global market data sources covering equities, bonds, foreign exchange, commodities, real estate and alternative investments. CarryQuote's real-time snapshot market views and personalized mobile alerts functionality ensures that fund managers, wealth managers, asset managers, brokers and individual investors are always on top of market changes. CarryQuote is compatible with all major Smartphone operating systems (Blackberry®, iPhone®, Symbian®, Android®, and Windows Mobile®), and desktop operating systems (Windows® and Macintosh®).
###