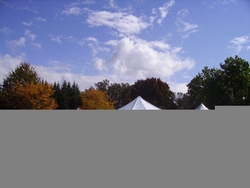 Imagine a beautiful fall day, warm sun, blue skies, green and gold vistas beyond the boundaries of a still lush green park. Now also imagine a picnic in that park, with your choice of California wines, appetizers from some of the most well known restaurants in the region, chocolate covered strawberries for dessert and unique artisans showcasing the best in holiday gift giving ideas
Oakhurst, CA (Vocus) September 15, 2010
A popular event for locals and visitors alike returns for the 19th year October 9 and 10.
The Oakhurst Chocolate and Wine Festival is one of the largest events in this community, offering a "taste of the mountains" at the Oakhurst Community Park. "Imagine a beautiful fall day, warm sun, blue skies, green and gold vistas beyond the boundaries of a still lush green park. Now also imagine a picnic in that park, with your choice of California wines, appetizers from some of the most well known restaurants in the region, chocolate covered strawberries for dessert and unique artisans showcasing the best in holiday gift giving ideas," said Kathy McCorry with the Oakhurst Area Chamber of Commerce which puts on the event.
Guests will have the chance to sample the latest creations from popular, award winning restaurants from throughout the area. "Joining us for the first time this year is The Blue Heron Restaurant. Chef Christian Mueller will be serving appetizer size portions of dark beer braised pork w/ warm and sweet German potato salad," said McCorry.
Many other restaurants will be offering up samples as well. Tasting Tickets can be purchased at several locations through-out the show and can be used in the Wine Tasting Tent and the Taste of Mountains Tent - restaurants will be serving both sweets and savories - and at the Chocolate Fountain in the Chocolate Pavilion. "This will be a great way to try something new or check out that restaurant you haven't had the chance to visit yet," she said.
Guests can save money by purchasing Pre-sale VIP Tickets for $30.00 which include two Adult Admissions, two Wine Glasses and 20 Tasting Tickets good for wine, food and chocolate tasting. These tickets are a $40.00 value and are only available as an advanced purchase. Tickets can be purchased on line at http://www.oakhurstchamber.com or by calling: 559-683-7766. All major credit cards accepted. Pre-sale Tickets do not have to be purchased to attend the show. Admission the days of the event is only $2.00 for adults. Children 12 and under are admitted free of charge. Tickets are good for all food, chocolate, beer and wine tasting.
Wineries participating this year include: Milla Vineyards, Birdstone Winery and Chateau Laqqoity.
There will also be a display enticing the husbands who aren't in to wine or chocolate. The "Sports Cars in the Park" show presented by Kitahara Buick GMC, will take place concurrently. "The car show includes several different types of high performance cars. The Corvettes of Fresno have also agreed to join us again this year, so it will be a great display," said McCorry.
For more information on the event please contact the Chamber at:
Oakhurst Area Chamber of Commerce
49074 Civic Circle,
Oakhurst CA 93644
Phone - 559-683-7766,
Fax - 559-683-0784,
Email - events(at)oakhurstchamber(dot)com
About Oakhurst:
Oakhurst is the largest community in eastern Madera County, which is known as California's Gateway to Yosemite. Founded in 1873 under the name Fresno Flats, the name was changed in 1912 to its current designation. Oakhurst is located just 14 miles south of the southern entrance in to Yosemite National Park, and is a popular stop for guests looking for food and lodging on the way to the park. The community also has numerous attractions, such as the Golden Chain Theatre, Fresno Flats and other museums, and is close to Bass Lake, a very popular recreation area.
###