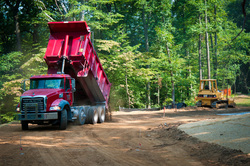 West Chester, PA (PRWEB) September 17, 2010
After nearly three years in development, construction has begun for 60 Bragg Hill Road, Pennsylvania's newest green home. Located in Pocopson Township in Chester County, west of Philadelphia, the new home will utilize a blend of environmentally savvy design, recycled construction materials and sustainable building techniques.
Chester County, with its rich agricultural and equine heritage dating back to the revolutionary war, is a fit setting for this home, a setting of rolling hills and woodlands which has been immortalized by such great artists as Andrew and Jamie Wyeth. "60 Bragg Hill is just the kind of home we'd like to see more of in our community," says Georgia Brutcher, one of Pocposon Township's board of supervisors. "The homeowner's, Nancy and Barney Leonard, have put considerable time and effort into the home's design to minimize ground disturbance, protect the natural woodland and promote the use of renewable energy."
60 Bragg Hill's principal designer is Matthew Moger of Moger • Mehrhof Architects. "I've designed several so-called "green" homes in recent years. I don't use the term, because designing smart and environmentally efficient living spaces is what I've always done. It's vitally important to integrate the home's design within its natural setting and celebrate these elements with a vocabulary that reflects the owner's passions within the historical context of the setting. Last summer, I camped out on the ten acre site with my daughter and spend many hours looking and listening to the wooded hillside. This ultimately provided me with the inspiration for the design."
The rest of the team, including engineers, contractors, environmental consultants, botanists, foresters and landscape architects worked collaboratively in a process called IPD (Integrated Project Delivery.) "IPD is a joy to behold when done properly," said Barney Leonard, the property owner. "The trick is to get the key players involved very early in the project so they are empowered to participate in the critical design elements of the building while it's still in the developmental stage. This results in a 'smarter' design, lower cost and faster, more efficient progress." The IPD team is composed of the owner, Mr. Leonard, Architect Matthew Moger, contractor, Mark W. Thompson, Environmental consultant, Tad Radzinski of Sustainable Solutions Corporation, Landscape Architect Jonathan Alderson, structural engineer, and civil engineer, James Fritsch of Regester Associates.
60 Bragg Hill will be built by Mark W. Thompson Builders, Inc. and is scheduled for completion by July, 2011. Constructed with Integrated Concrete Forms (ICFs), the home will be highly energy efficient, low maintenance and durable. Mark Thompson, is an expert in ICF construction, having built many homes with this highly efficient process, including his own. 60 Bragg Hill will utilize a 43 panel 9.7kW photovoltaic solar array, geothermal heating and cooling, and a rainwater collection system used for toilet flushing and plant irrigation. The architectural design utilizes many passive systems including a solar tower, high thermal mass, integrated sun shades, and highly efficient Marvin windows.
For a detailed review of the entire process, go to http://www.60bragghill.com. For more information, contact Barney Leonard.
###