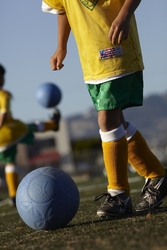 Chicago, IL (PRWEB) September 23, 2010
MEDIA ADVISORY
WHAT:
Join three-time Olympic medalist, two-time World Cup Champion, National Sports Hall
of Fame inductee and former Women's Sports Foundation President – Julie Foudy, along with more than 100 girls from the AYSO 751 as they kick around the One World Futbol – the world's first, ultra-durable, all-terrain soccer ball. Foudy will serve as the One World Futbol Project ambassador at the Chicago event, and present the Hyde Park/Kenwood players with 50 One World Futbols. During the event, the girls will meet and kick around with Foudy. This is the first large donation of One World Futbols to a girls' soccer league in the U.S.
WHO:
Foudy will be joined by Tim Jahnigen, founder, One World Futbol Project; and Cicley Gay, National Director, Education & Alliances, Women's Sports Foundation
WHEN:
Tuesday, September 28, 2010 from 5:00 p.m. to 6:00 p.m.
WHERE:
Join Foudy, Gay, Jahnigen and the girls of AYSO 751 as they kick around the One
World Futbol at Midway Plaisance Park (located at 59th and Blackstone, Chicago).
INTERVIEW and PHOTO OPPORTUNITIES:
Foudy will sign One World Futbols, autograph cards, and will take photos with the girls.
To set up an interview, contact: Dana Young (dana@oneworldfutbol.com; 415-378-7998) or Jennifer Hwang (jenn@oneworldfutbol.com; 415-420-3259).
The Women's Sports Foundation's GoGirlGo! Chicago is an award finalist at the Beyond Sport Global Summit 2010, taking place in Chicago, September 29-30 at the Palmer House Hilton. GoGirlGo! works across the country to improve the health of sedentary girls and to keep girls involved in physical activity. GoGirlGo! gets girls moving by supporting organizations like The Hyde Park/Kenwood AYSO 751 (American Youth Soccer Organization). AYSO 751 serves girls from diverse, economic backgrounds on the south side of Chicago. The girls, ages 4 to 18 years, are multi-ethnic and multi-lingual – a true reflection of the university community in which they play.
Founded in March 2010, the One World Futbol Project developed the One World Futbol – an ultra-durable, all-terrain ball that never deflates and plays on any surface. The company sells the One World Futbol wholesale directly to institutions and organizations, as well as to individual consumers through a "Buy One Give One" model. For every ball bought at retail, the company is committed to donating a second ball to a community in need. The One World Futbol Project is headquartered in Napa, California.
Follow us on Facebook, http://www.facebook.com/OneWorldFutbol
Join us on Twitter, http://www.twitter.com/oneworldfutbol.
###