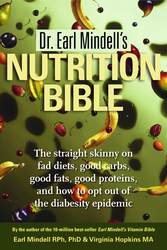 Obesity accounts for 30% of The United States population and
Wilmington, NC (Vocus) September 16, 2010
Dr. Mindell will be the key note speaker at a Health and Wellness conference being held in Orlando, Florida by Dr. David Friedman, host of To Your Good Health Radio and formulator of a nutritional supplement line. At the event, Dr. Mindell will pre-release his much anticipated new book, "The Nutrition Bible", scheduled to hit bookstores in later this Fall.
Dr. Mindell has authored 54 books, "The Herb Bible," "Natural Remedies for 150 Ailments," and one of the best selling health and nutrition books of all time, the international best-seller "The Vitamin Bible", which has been translated in 33 languages and has sold over 11 million copies. He's appeared on many syndicated radio and TV shows including Oprah, David Letterman, Regis and most recently, To Your Good Health Radio show.
His new book "The Nutrition Bible," is making waves in the health and wellness industry as the book, that introduces the controversial word " Diabesity", a combination of the nation's two biggest health concerns, obesity and diabetes. Dr. Mindell explains "Obesity accounts for 30% of The United States population and "Diabesity" is so out of control that it is going to be the cause of an early demise of the population in the next 20 -30 years if we don't take control of our health today". He also says, " One third of all children are overweight . This has become such a problem that the next generation will be the first to have a shorter life expectancy than other generations before them. Healthy eating (NOT DIETING) is imperative to changing these statistics. Those parents that continue to feed their children Happy Meals, I suggest giving them the container it comes in for lunch rather than the actual meal… it's healthier for them."
Given this, the timing couldn't be better for Dr. Mindell to release his book "The Nutrition Bible".
About the Chews-4-Health International Health & Wellness Event:
Being held September 25, Orlando, FL, Doubletree Resort, International Drive. Tickets and Details 800-213-0512.
About Dr. Mindell:
Earl Mindell, R.Ph., Ph.D. is the author of 54 books, including "Prescription Alternatives", "The Herb Bible", Dr. Mindell's "101 Natural Remedies", and the bestseller "The Vitamin Bible", which has sold over 10 million copies worldwide.Dr. Mindell is one of the world's foremost authorities on nutrition and natural remedies, and he is a strong advocate of nutrition as preventative medicine. Dr. Mindell is a frequent guest on radio and television programs, such as Oprah and Regis.
About Dr. Friedman:
Dr. David Friedman, Host/CEO is a disciplined visionary and a man of action! He is a renowned educator and lecturer in the field of nutrition. He is a Chiropractic Physician and Doctor of Naturopathy. He has received post-doctorate certification from Harvard Medical School and is a former teacher of Neurology. He's a member of the Naturopathic Medical Association and has been honored in the National Who's Who directory for the past 8 years. Dr. Friedman has authored three books and has written articles for several national magazines.
He is the host of the syndicated health and wellness show To Your Good Health Radio and has appeared on numerous syndicated radio and television shows and his best selling CDs on nutrition have been heard by over a million people. As health expert for Life Time Televisions morning show, he has shared cutting edge stories with millions. Dr. Friedman is often called "The Chiropractor to the stars" because his list of patients include some of today's top celebrities and movie stars. In fact, many celebrities fly Dr. Friedman across the country to treat them because they trust no one else.
A decade ago, the nutritional industry was predominately filled with pills and capsules. Dr. Friedman was referred to as "The Godfather of Liquid Nutrition" because in a world of pills, he lit the world on fire by helping to put liquid nutrition on the map. After 20 years in practice, he became frustrated with the void he still found in the world of nutrition and spent 3-1/2 years formulating and perfecting his revolutionary dietary supplement product Chews-4-Health, the WORLD's FIRST full spectrum super fruit / sea vegetable and antioxidant chewable and recently has launched his brand new product Trimulean. A powerful chewable weight loss product containing 10 of the most powerful weight loss ingredients found on the market in one delicious chocolate tasting chewable designed to help you eat less and cheat less.
###