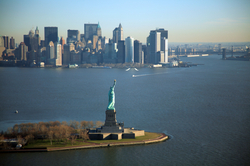 We put a great deal of care into ensuring that our New York City vacation will be entertaining and memorable to the traveler who really wants to get to know this great city in a shorter vacation of less than a week
San Francisco, CA (Vocus) September 16, 2010 –
California Tours has just introduced the New York & Beyond Express Package, a flexible getaway package featuring the world-famous sights of New York City – all in five days and four nights. Travelers can choose between a deluxe, superior and standard package for their trip, depending on their budget, but will still be assured of seeing the best of New York City's sights.
The New York City Tour included in the package introduces travelers to famous places such as Times Square, Greenwich Village, SoHo, Little Italy, Central Park, Fifth Avenue, Rockefeller Center and more. Because all accommodations are located in the heart of the city, near Times Square, Penn Station, or Grand Central Station, travelers can easily revisit favorite places on their own.
Besides a comprehensive guided tour of Manhattan, the package also includes an evening tour of the "city that never sleeps," a visit to the Empire State Building, and a tour of the Statue of Liberty. The Statue of Liberty tour includes a harbour cruise, allowing visitors to see the famous city skyline. Travelers will leave New York five days later feeling like they've gotten a real sense of the city.
For those who can extend their stay and see more of the East Coast, side trips are available to nearby destinations such as Niagara Falls, Boston and Washington D.C. Additional nights in New York can also be included, allowing travelers to construct their perfect vacation with the help of California Tours' regional expertise.
"We put a great deal of care into ensuring that our New York City vacation will be entertaining and memorable to the traveler who really wants to get to know this great city in a shorter vacation of less than a week," said William Kim, California Tours general manager.
Prices are designed to appeal to a variety of vacationers, and upgrades and options are offered for each package. The new package is available immediately, and trips can start any day of the week.
To book a Manhattan vacation and for complete information on California Tours' New York City package, visit http://www.california-tour.com or call toll-free 877.338.3883.
About California Tours
Based in San Francisco, California Tours is a registered, full-service, destination management company and tour operator. Every client gets hands-on personal attention from professional staff with over twenty years of related experience. For more information or to book a vacation, visit http://www.california-tour.com or call toll-free 877.338.3883.
###