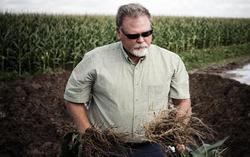 Fields treated with Bio-Forge not only yielded better in the end, but I could physically see they were healthier and had stronger, more fibrous roots
Houston, TX (PRWEB) September 17, 2010
Corn harvested in late July from a south Texas farm results in higher yields due to the application of Stoller products even through a harsh growing season and elevated plant stress.
Tom Wetegrove, a partner in the 4th generation Charles Wetegrove Company Inc located in Raymondville Texas, has earned the reputation as a progressive grower employing innovative strategies on his farming operations. Known for the quality onion and sugar cane crops produced, Wetegrove plants corn as a rotational crop in January for harvest by the middle of summer.
Bio-Forge® was applied at the V4 stage at an application rate of 1 pint/acre. Wetegrove was surprised to see how large the root mass was on the treated plants compared to the untreated. In addition, treated corn had better ear fill and larger ear diameter.
As harvest grew closer treated plants continued to look healthier and stronger taking up more nutrients when compared to untreated crops. Mid-July harvest results for treated corn averaged an 11 bu/acre increase. In Wetegrove's fields varieties treated with Bio-Forge averaged 135 bu/acre while the same varieties that were untreated averaged 124 bu/acre.
"Fields treated with Bio-Forge not only yielded better in the end, but I could physically see they were healthier and had stronger, more fibrous roots," said Wetegrove. "I'm constantly looking for new strategies to produce the highest yields in stressful situations; with just one Bio-Forge application I was able to increase my yields."
Bio-Forge is a yield-enhancing stress reducer for all crops. It reduces the negative effects of plant stress caused by drought, excessive moisture, frost, herbicide damage and other crop stressors. Proven to enhance productivity and overall yield, Bio-Forge may be applied as a seed treatment, in-furrow or as a foliar spray application.
StollerUSA is dedicated to helping producers enhance yields by maximizing genetic expression. The result is enhanced marketable yield, improved return-on-investment and improved tolerance to disease and other stress. Only Stoller products contain Stoller's proprietary technology that is proven to ensure optimum plant growth by maintaining appropriate hormone balance in combination with supporting nutrients. Validated by Universities nationwide, Stoller's unique formulations result in healthier, more productive crops that are better able to withstand stress and achieve their full genetic potential.
About StollerUSA
Celebrating 40 years in agribusiness,StollerUSA markets a full line of products to help farmers increase crop yield and quality. StollerUSA, headquartered in Houston, is actively engaged in basic and practical research to enhance crop productivity in more than 50 countries.
###