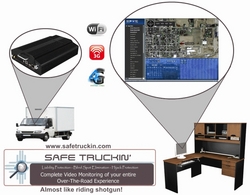 These GPS Fleet Management Systems put an end to frustrations making it almost like riding shotgun with your drivers.
Albuquerque, NM (PRWEB) September 16, 2010
A Squared Enterprises, LLC today introduced Safe Truckin' (http://www.safetruckin.com)], a new Web site that markets and sells safety and security products for commercial organizations that own and operate fleets of trucks, busses, automobiles, and other vehicles. Unlike other sites that offer only GPS systems or mobile DVR video recording, Safe Truckin' brings these two technologies together, along with advanced remote tracking and video streaming, to empower fleet managers to remain fully aware of what's happening with their entire fleet at all times, right from the comfort and convenience of their own office. As a result, organizations can gain greater control over their vehicles, with unparalleled protection that dramatically reduces risk and liability, and preserves the significant financial investment they've made in their fleets.
"Each and every year, companies, government agencies, and other organizations with vehicle fleets lose millions of dollars due to theft, loss, or driver injury," said Arnie Bosch, CEO of A Squared Enterprises and one of the founders of Safe Truckin'. "Therefore, it's crucial for them to have immediate access to all the facts, and know exactly what is happening in real-time - so they can instantly determine if cars and trucks are in good working order, if drivers are obeying traffic laws, if vehicles are being properly secured, and more."
"GPS Fleet Management Systems from Safe Truckin' help businesses overcome their most pressing safety and security challenges, by providing them with a powerful combination of remote networked map tracking with live video feeds - which is the next best thing to riding shotgun," he continues.
Some of Safe Truckin's cutting-edge offerings include:

Mobile Digital Video Recorders, with support for 2 to 8 channels, which are fully integrated with GPS. These systems can be equipped with cameras placed inside or outside the vehicle, and networked via WiFi or cell phone network. This unique approach offers unparalleled near 100% geographic area coverage, 24/7, displaying location, time, speed, and other details right on the video frame, as well as on desktop screens.
Leading-edge 3G/4G cellular networking technologies that eliminate dependence on WiFi hot spots, providing more complete and broad-reaching wireless communication coverage.
Cameras with in-vehicle LCD monitors, giving drivers a 360-degree view of their surroundings, to help eliminate blind spots and make it easier to back-up large vehicles.
H.264 video compression that reduces the size of video files by as much as 80 percent, saving storage and utilizing lower bandwidth for transmission, without compromising quality or clarity.
Voice over Internet Protocol (VOIP) solutions that enable instantaneous communication between dispatchers and fleet managers, and their drivers. (Remote 'listening' to drivers capability exists and full two-way communications is currently under development.)
Eight-alarm triggers that, when combined with mobile digital video recorders, can instantly notify fleet managers when a vehicle malfunctions, when the driver hits a "panic button", when g-forces indicate rapid stops or accelerations or severe impact, when safe speeds are exceeded, or when other dangerous conditions exist. When an alert is triggered, a red warning flag box - along with the vehicle ID and alarm info - will pop up immediately on the fleet manager's desktop. Just a click will produce the video feed.
"Solutions like these deliver immeasurable value to today's businesses, whether they operate large fleets, or small ones," Bosch added. "They can not only ensure that their drivers are obeying traffic laws and complying with corporate policies related to security and equipment handling, they can provide solid evidence in the event of an incident of theft, or an accident."
"It's about more than just safety," he concludes. "Companies spend hundreds of thousands of dollars - or in some cases, millions of dollars - on their vehicles, so protecting those investments from loss or liability is vital. At Safe Truckin', we have everything companies need to achieve unprecedented visibility and control over their fleets. And at the end of the day, that will have a profound impact on the bottom line."
About A Squared Enterprises, LLC
A Squared Enterprises, a veteran owned small business, was founded by husband and wife team Amy and Arnie Bosch in 2004. Headquartered in Albuquerque, New Mexico, A Squared Enterprises is committed to the protection of individuals and corporations, and is dedicated to a variety of related charitable causes.
###