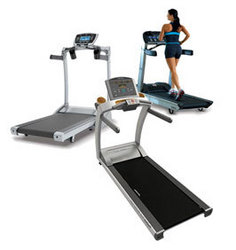 In short, our customers have a full year to pay off their purchase
Phoenix, AZ (PRWEB) September 17, 2010
With fall right around the corner, AtHomeFitness.com is providing Arizona residents with the opportunity to take their exercise routines indoors with brand new fitness equipment. In addition to offering discounted rates, including a 10% discount on Landice treadmills, the online store is also offering "Same As Cash" financing on sale items.
"In addition to helping our customers save money, our latest promotion is also quick and easy to take advantage of," said Bryan Dorksen, Owner. "In fact, the entire process takes only about 10 minutes to complete."
To take advantage of the "Same As Cash" offer, customers need to purchase a qualifying piece of equipment by the end of the month. Although customers must make a 3.5% minimum monthly payment toward the purchase of the equipment, no interest will be added so long as the balance is paid off by the one year anniversary date of the purchase.
"In short, our customers have a full year to pay off their purchase," said Dorksen. "By offering the Same As Cash deal, we hope to help those customers who want to start getting into shape, but don't have all of the money available to make the purchase right now. Now, there really is no excuse to put off working out and getting into shape."
A wide variety of different pieces of equipment are included in the program, including the Life Fitness G7 Dual Adjustable Gym, the Horizon Fitness T101 Treadmill, the Octane Fitness Q35c Elliptical and Landice treadmills, including the Landice L7 LTD series, the Landice L8 LTD series, the Landice L7 Club series, the Landice L9 Club series and more.
See stores for details about the At Home Fitness "Same As Cash" program. To learn more about the home fitness equipment the company has to offer, visit AtHomeFitness.com.
###