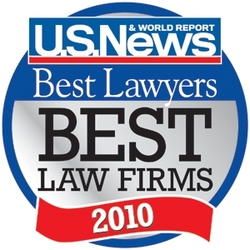 Nearly 30 years ago we chose to limit our practice to the representation of individuals and families devastated by negligence and malpractice malpractice. It was a sound decision.
Syracuse, NY (PRWEB) September 17, 2010
Bottar Leone, PLLC, earned top placement in the inaugural edition of U.S. News and World Report / BestLawyers 2010 Best Law Firms. In news made public yesterday, the Firm was voted a "First Tier" Syracuse personal injury law firm.
When asked about the Firm's history of securing 6 and 7 figure recoveries for its clients throughout the State of New York, Syracuse medical malpractice lawyer Anthony S. Bottar, Esq. commented that "nearly 30 years ago we chose to limit our practice to the representation of families devastated by negligence and malpractice. It was a sound decision." Since then, "the Firm has been fortunate to enjoy a very busy, and exciting trial practice" that consists primarily of complex medical malpractice cases (e.g., birth injuries, strokes, heart attacks, failures to diagnose), product liability cases, and claims for disability or wrongful death due to construction accidents, roadway defects and structural failures.
"We also represent those catastrophically injured in bus, truck and train accidents," said Syracuse construction accident lawyer Michael A. Bottar, Esq. Bottar added, "there is nothing better than answering a client's call for help and knowing that our office is uniquely positioned to put an Upstate New York family back on track by securing compensation that can be used to, for example, purchase a motorized wheelchair for a paraplegic, provide therapy to a baby born with cerebral or Erb's palsy, pay for 24 hour nursing care for a misdiagnosed stroke patient, or put a child now without a mom or dad through college."
The U.S. News rankings are based upon a multi-dimensional survey that was sent to more than 52,000 clients, nearly 44,000 lawyers, and more than 13,000 law firm contacts. According to U.S. News, nearly 9,000 lawyers and almost 10,000 clients responded to the survey, including every Fortune 100 company and most of the Fortune 1000 companies. The surveys collected mostly reputational data, including expertise, civility and integrity, as well as two pointed questions to lawyers: (1) whether they would refer a case to the firm, and (2) whether they consider the firm a worthy competitor.
Bottar Leone, PLLC
1600 AXA Tower II
120 Madison Street
Syracuse, NY 13202
1-800-336-5297
bottarleone.com
syracuseinjurylawyerblog.com
syracusemedicalmalpraticelawyerblog.com
Attorney Advertising
Prior Results Do Not Guarantee A Similar Outcome.
###