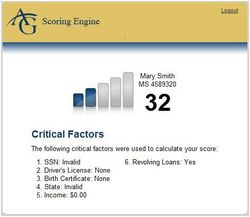 "No more standing in line for hours only to find out you need yet another piece of information. CaseVue's public channel will provide Medicaid and CHIP eligibility information to the public via phone, internet or a kiosk!"
Austin, TX (PRWEB) September 17, 2010
AutoGov CEO, Rose Hayden, is announcing a new release of her company's flagship risk management tool, CaseVue. This version introduces public channel access to the same tools used by government agencies to assess eligibility for government programs including Medicaid, CHIP and SNAP (Food Stamps).
Hayden says CaseVue will now be available to individuals through commonly accessible technologies -- telephone, internet, smartphones or a public kiosk -- ensuring that time spent by applicants waiting in a government office is kept to a minimum.
About the enhancement to CaseVue Hayden said, "Our research indicates that many more eligible people would sign up for Medicaid and other government programs if they had an idea in advance about what information is required and if they might be eligible. Applying for services is easier when an easy to use wizard gathers your information, assesses the overall strength of the applicant and provides the person with a clear, easy to follow list of required documents."
CaseVue is part of a comprehensive platform used by government agencies, healthcare providers – and now the general public - to provide critical decision support information. CaseVue provides users with fast, accurate information to support their decisions ultimately improving both the timeliness and quality of eligibility decisions. And best of all, reducing the time applicants spend accessing benefits.
AutoGov's 15 years of delivering consistent quality services to its government and corporate clients is borne of the knowledge and experience of its leadership team. All of AutoGov's principals have served at the highest levels in government and as executives in the private sector. The AutoGov team, their advice, and solutions reflect decades of practical knowledge and experience. The company's firm belief is that solutions for its clients must be affordable, practical, and harness technology to support day to day operations without major disruption or expense.
For more information contact the company at 512-439-2900 or at autogov.com.
###