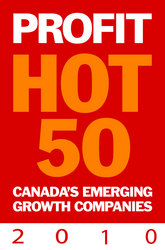 Creativity, foresight and focus are just some of the traits required to launch a successful business in today's volatile marketplace
(PRWEB) September 16, 2010
CONASYS Inc. is proud to announce that the PROFIT HOT 50, Canada's definitive ranking of emerging growth companies, has named CONASYS in the 11th annual PROFIT HOT 50 rankings. Published in the October issue of PROFIT magazine and online at PROFITguide.com, the PROFIT HOT 50 ranks young firms by two-year revenue growth.
Placed at number 27 on the list of 50, CONASYS was founded by James Christensen and Greg Stolz in British Columbia and is now across Canada with hundreds of clients ranging from builders of single family homes to high-rise developers.
"Creativity, foresight and focus are just some of the traits required to launch a successful business in today's volatile marketplace," says PROFIT editor Ian Portsmouth. "This year's PROFIT HOT 50 leaders have these qualities in abundance, plus many effective management ideas that other business owners would do well to borrow."
CONASYS services, which offer significant value for both its clients and consumers, have also achieved significant recognition in the industry with recent developments ranging from contracts with home warranty companies to working relationships with industry associations.
"The team here at CONASYS is very proud of this formal recognition of our business success," says James Christensen, CEO CONASYS, "and I am exceptionally proud of the team that got us here!"
About Profit
PROFIT: Your Guide to Business Success is Canada's preeminent publication dedicated to the management issues and opportunities facing small and mid-sized businesses. For 28 years, Canadian entrepreneurs and senior managers across a vast array of economic sectors have remained loyal to PROFIT because it's a timely and reliable source of actionable information that helps them achieve business success and get the recognition they deserve for generating positive economic and social change. Visit PROFIT online at http://www.PROFITguide.com.
About CONASYS
CONASYS Customer Assurance Systems Inc. (http://www.conasysinc.com twitter: @CONASYS) is an information management company which provides web-based tools that assist companies and consumers with warranty and after sales service. The company has over 300 builder clients across Canada and has over 20,000 new homes coming on-line. It is a private company based in North Vancouver, BC.
###