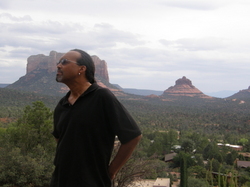 On this amazing evening of giving and sharing of the self, I say without question that I feel truly loved...Armsted Christian
New York, NY (PRWEB) September 16, 2010
The Jazz Network Worldwide opened its doors in January of 2008 where creator Jaijai Jackson, jazz radio personality and daughter of legendary jazz bassist "Chubby" Jackson took on the challenge of launching a social network primarily for the Jazz industry to network worldwide. With no real experience running a website much less, understanding what it constituted, Jaijai tightened her bootstraps and 'dug in' to create a platform that would garner relationships that would be revenue-building for musicians worldwide. This platform has become as Jaijai states "a great place to hang" as well as an engaging social experience featuring artists from all over the world. It has taken over two years to get the network to approximately 10,000 members. The site encompasses musicians, managers, agents, record labels, promoters, jazz venues, publicists, radio & TV broadcasters, industry publications, educators, mentors, celebrity artists as well as the up-and-comers on the scene including all subsets of the jazz industry that "make it tick".
The philanthropic arm of The Jazz Network Worldwide "Heal A Life With Love" campaign was created to support jazz musicians in medical crisis. It has been in existence for almost a year benefiting one of its members, jazz artist Armsted Christian who's credits include: George Duke, Herbie Hancock, Patti Austin, Will Downing, Roberta Flack, Regina Carter, Paul Simon, Gloria Estefan, Phil Perry, Najee, Gerald Albright, Boney James, Angela Bofil, Phyllis Hyman, Jonathan Butler, Marion Meadows, Special EFX, Chieli Minucci, Michael Brecker, Marc Egan, Regina Belle, Peabo Bryson, Jeffery Osborne, Vesta Williams and Alex Bugnon. He is also a Professor Of Voice at Berklee College of Music as well as an accomplished songwriter, author, poet, actor and producer.
Armsted is currently walking the corridor of a double-lung transplant and suffering from a dis-ease called sarcoidosis. Due to the nature of this extensive surgery and the costs thereof, The Jazz Network Worldwide decided to launch its very first live event being a concert produced with an impressive array of musical icons coming to the aid of their friend Armsted Christian. Internationally renowned musicians Mo Pleasure and Vana Gierig, close friends of Christians immediately came forth as Co-Music Directors with the offering not only with their own musicianship but relationships to top artists to make this event a success. The line up is: Najee, Omar Hakim, Victor Bailey, Rachel Z, Gene Jackson, Keith Robinson, Etienne Charles, Nicolas Bearde, Carla Cooke, Alex Garcia, Ray Blue, Nona Hendryx, Onaje Allen Gumbs, Mark Berman, Gito Sitson, Matthew Parrish, Drew Davidsen, Todd Turkisher and Hendrik Meurkens. "This evening is one not to be missed , for you will never have all these incredible musicians in one room ever again pouring out such love and healing energy to a dear friend and co-musician. It's an honor to be hosting such an event and sharing it with The Jazz Network Worldwide community. I know our community will show just how much we care for each other" says Jackson.
"As I walk through this portion of my life's journey,dealing with the day to day challenges of my condition of Sarcoidosis, I am consistently reminded that we, as human beings are in essence brothers and sisters; our outer differences are simply cosmetic adornments of a deeper part of us. Our inner soul. We are family here on this planet and we must begin to recognize that our power is not in our physical might. Our power is in our ability and willingness to love one another. On this amazing evening of giving and sharing of the self, I say without question that I feel truly loved" states Christian.
The event will be streamed live from Saint Peter's Church at 619 Lexington Avenue in New York City at 7pm-9pm EST through The Jazz Network Worldwide at http://www.thejazznetworkworldwide as well as through its streaming channel http://www.livestream.com/thejazznetworkworldwide . The sponsors that came on board without hesitation were; Saint Peter's Church, Livestream.com, Kimpton Hotels, PRweb.com and Miller Law Group each bringing their gifts to the fold and The Jazz Network Worldwide extends its gratitude for their loyal participation to this very special cause to "Heal A Life With Love" benefitting the life of Armsted Christian.
To donate to Armsted's surgery and recovery, go to http://www.thejazznetworkworldwide.com or to http://www.stayinthelight.info to learn more about Armsted's stellar career and to donate there as well.
###