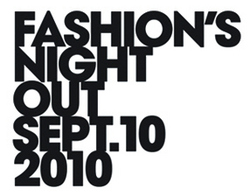 Miami, FL (PRWEB) September 17, 2010
On Friday, September 10th Bal Harbour Shops joined in the global phenomenon known as, FASHION'S NIGHT OUT (FNO). This retail initiative was created to celebrate fashion, boost customer confidence and put the fun back in shopping. FNO has snowballed from its debut last year into a worldwide shop-til-you-drop party with each participating destination putting its own spin on the festivities.
Bal Harbour's celebration transformed the shops into a progressive block party with chefs' tastings, live music, dance classes, special-edition merchandise, personal appearance and a few stylish surprises, like the installation of Bocce Ball Courts. All for a good cause, as Bal Harbour's participating stores have partnered with a variety of local charities and cultural organizations to which they will donate a percentage of the evening's proceeds.
Some party highlights: Guests were the first to sample Stephen Starr's Japanese cuisine at his BHS pop-up, nail the coolest shades at The CHANEL Nail Bar with complimentary mini manicures featuring 3 shades created exclusively for FNO, view a special photo installation in FENDI of the Fall/Winter 2010 Campaign Shot by Karl Lagerfeld and purchase a limited-edition self portrait signed by Karl, be amongst the first to snag a pair of YSL's iconic Tribute sandal and Trib Too pump in a new teal blue, available exclusively at BHS. As a sponsor of FNO, Vogue Latin America stimulated a live photo shoot with a renowned Vogue photographer. Everyone's favorite healthy snack popchips had Hollywood style serving trays roaming the mall ensuring everyone's energy level stayed up throughout the night.
Bold-faced names at the event included : Tracy Mourning, Dana Shear, Vivienne Kurzweil, Belkys Nerey, Morten Aagaard & Stephanie Sayfie Aagaard, Sarah Harrelson, Susanne Birbragher, Michelle Berstein, Vivianne Kurzweil, Jillian Jacobson-Altit, Dick Anderson (Miami Dolphin '72), Cliff & Jill Viner, Chip Brady & Allison Weiss Brady, Perla Machaen & Robert Thorne, Norma Quintero, stylist Danny Santiago, Cristina Getty Maercks, Maria Celeste Arraras, artist Iran Issa-Khan, Esther Jackson and Alan Randolph.
It wouldn't be fashion without an event souvenir, but rather than a T-shirt or tote bag, Bal Harbour gave guests an eco-friendly garment bag with any purchase of $500 or more. The limited-edition garment bags, created to eliminate the waste of single-use plastic dry cleaning bags, was available for purchase ($20) with 100 percent of the proceeds donated to charity.
A full list of participating retailers and their in-store events is available on http://www.balharbourshops.com/FNO.html. Bal Harbour FNO sponsors include: Vogue Latin America, THE COLLECTION and Maserati and BocceNation.com. FNO, considered the largest retail event ever, was created by Vogue, the Council of Fashion Designers of America, NYC & Company and the City of New York. Check out the photos from the event at http://www.balharbourshops.com/events/fno-2010.html.
The Buoniconti Fund's Bocce Ball Bash, presented by THE COLLECTION and Maserati
Guests at Fashion's Night Out were able to play bocce ball in the middle of Bal Harbour Shops at The Buoniconti Fund's Bocce Ball Bash, presented by THE COLLECTION and Maserati. The event served as the South Florida kick off of The Buoniconti Fund to Cure Paralysis's 25th Annual Great Sports Legends Dinner in New York City. Guests were able to play bocce ball alongside celebrity friends, win prizes, enjoy complimentary cocktails and fabulous cuisine by Barton G and stop by the Tiffany & Co. Chances for a Cure table and our "Buy it Now" store which featured sports memorabilia, "Kidz Korner", travel and more.
On the second floor, hpnotiq, a liquor that consists of an exquisite blend of premium vodka, natural tropic fruit juices and a hint of cognac , quenched guest's thirst with a bar serving hpnotiq's sigature roc candy martini's and champagne infused bubbles & blue. Hpnotiq also created a free standing candy bar where guests could indulge their sweet tooth's as they waited to take their turn testing their skills on a Target Bocce ball court by rolling a bocce ball to a target area, with the closest to the target winning the grand prize provided by Tiffany & Co. The event was presented by THE COLLECTION and Maserati. Additional sponsors included Bal Harbour Shops, Tiffany & Co., and Continental Airlines.
Bal Harbour Shops Fashion's Night Out retailers: Saks Fifth Avenue, Neiman Marcus, 100% Capri, Agent Provocateur, American Express Travel, Anne Fontaine, Audemars Piguet, Books & Books, Bottega Veneta, Brioni, Brooks Brothers, Brunello Cucinelli, Calypso St. Barth, Carolina Herrera, Cartier, Celine, Chanel, Chloè, David Yurman, De Beers, Diane Von Furstenberg, Dior, Elie Tahari, Emilio Pucci, Fendi, Graff, Jimmy Choo, Lacoste, Lanvin, Louis Vuitton, Luca Luca, Marc Jacobs, Michael Kors, Nanette Lepore, Oscar De La Renta, Optica, Oxygene, Piaget, Pomellato, Pratesi, Roger Vivier, St. John, Salvatore Ferragamo, Santa Maria Novella, Thomas Pink, Tiffany & Co, Tod's, Tory Burch, Tourneau, Trina Turk, Valentino, Vilebrequin, Yves Saint Laurent. Please visit the Bal Harbour Shops store directory for a full list of retailers.
About Bal Harbour Shops
# 1 most productive shopping center in America" by Women's Wear Daily and a favorite playground for socialites, fashionistas, and celebrities, Bal Harbour Shops (http://www.balharbourshops.com) is an exquisite collection of designer boutiques and restaurants in a tropical garden setting. This legendary fashion mecca includes Carolina Herrera, Chanel, Dior, Gucci, Hermès, Louis Vuitton, Oscar de la Renta, Prada, Tory Burch and anchors Neiman Marcus and Saks Fifth Avenue."
Join Bal Harbour Shops on Facebook, watch fashion videos on Youtube and follow us on Twitter.
###