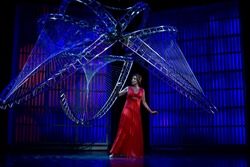 I'm always cheering when I see opera once again reasserting itself as the richest tapestry for innovative, live art
Cambridge, MA (Vocus) September 16, 2010
The contrast could not be more remarkable. The setting is the gilded, Belle Epoque 19th-century opulence of the famed opera house in Monte Carlo. The set, on the other hand, comes straight out of the 23rd century, a spectacle of geometric robots, animatronic walls and a shape-shifting chandelier that descends like a deep-space creature to engulf the mezzo soprano in its embrace. What binds the past to the future is the music itself, melodies of lyrical beauty and rhythmic passion, which burst open fresh sonic landscapes to explore timeless themes:
When I die, what remains? What will I leave behind? What can I control? What can I perpetuate?
These are the eternal human questions facing Simon Powers, the protagonist of visionary composer Tod Machover's new opera Death and the Powers, a full-evening work which premieres September 24, 2010 at l'Opéra de Monte-Carlo, with additional performances on September 25 and 26. Prince Albert II of Monaco is the honorary patron of the opera and will be attending the premiere.
In the opera, Powers, a rich, powerful businessman and inventor, wishes to perpetuate his existence beyond the decay of his physical being. Reaching the end of his life, Powers uses his vast resources to devise a way to 'download' himself into his environment. This transformation turns every object in his surroundings—his books, furniture and walls—into a collective, living version of himself, called The System. His family, friends and business associates are left not only to figure out if The System is, in fact, a true embodiment of Powers, but how to sustain a relationship with him in his new form, and whether to abandon their own organic existence and join him in his world of light, free of death and suffering.
In this cutting-edge work, Machover—called "America's most wired composer" by the Los Angeles Times—elegantly blends his artistic and technological expertise to create an inventive score filled with arching melodic lines, wry humor, richly nuanced textures and propulsive rhythms. Death and the Powers additionally introduces specially designed technology – including animated walls, a chorus of robots and a musical chandelier – assuredly launching a new era in opera production and expression.
Death and the Powers' creative fusion of music and technology could reposition opera as an art form that embraces innovation, says Marc Scorca, president and CEO of Opera America, a nonprofit that serves U.S. opera companies. "I'm always cheering when I see opera once again reasserting itself as the richest tapestry for innovative, live art," says Scorca.
Death and the Powers sets itself apart from other operas with its groundbreaking performance technologies, developed by Machover's Opera of the Future Group at the MIT Media Lab. A new technique called Disembodied Performance employs innovative sensors and analysis software to translate baritone James Maddalena's conscious and unconscious sounds and gestures, enabling the set to 'come alive' with Simon's thoughts, feelings, memories and desires even after his physical body is no longer on stage. In addition, a chorus of "Operabots" narrates and reacts to the story; robotic furniture morphs and moves about on stage; and a musical Chandelier engages in a sensuous duet with Simons' beloved wife Evvy.
Machover collaborated with a creative team that reads like a who's who of movers and shakers of American culture. Former U.S. Poet Laureate Robert Pinsky wrote the libretto. Director Diane Paulus received a Tony nomination for her recent revival of HAIR on Broadway, and is joined by celebrated choreographer Karole Armitage and production designer Alex McDowell, who is best known as the creative director behind such films as Minority Report and Charlie and the Chocolate Factory.
Death and the Powers' cast features baritone James Maddalena as Simon Powers; mezzosoprano Patricia Risley as Simon's third wife, Evvy; soprano Joélle Harvey as Simon's daughter, Miranda; tenor Hal Cazalet as Simon's research assistant and adopted son, Nicholas; countertenor Frank Kelley as 'The United Way'; baritone David Kravitz as 'The United Nations'; and bass Tom McNichols as 'The Administration.'
Following its Monaco premiere on September 24-26, 2010, Death and the Powers receives its United States premiere March 18, 2011 with Harvard's American Repertory Theater (A.R.T.) and Opera Boston; and its Midwest premiere April 2, 2011 at Chicago Opera Theater. Generous support for Death and the Powers has been provided by the Monaco-based Futurum Association.
View Video Trailer for Death and the Powers
###