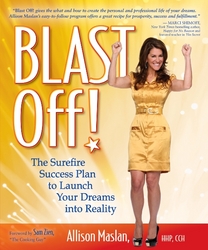 It is tough competition for our book-of-the-month selection. You need to have a special message that will resonate with our readership.
San Diego, CA (Vocus) September 16, 2010
Sure you're familiar with Oprah's Book Club. But how about the Me: In Focus Book of the Month? The magazine Me: In Focus just picked their must read book for October and it is "Blast Off!" by Allison Maslan. The magazine is targeted toward women who boldly celebrate both brains and beauty. It is where runway meets reality, style meets substance and haute meets heart. Picking great reads for their audience is their latest trend.
Bee Li, founder and editor-in-chief, felt she had found a kindred spirit with the bestselling author Allison Maslan when they met last month in Chicago on Maslan's Rocket Tour Across the USA for her book "My Blast Off!"
"Allison is so inspirational," Li said. "It is tough competition for our book-of-the-month selection. You need to have a special message that will resonate with our readership."
Li says Maslan can talk the talk because she walks the walk.
"I loved her guts. That's what so many of us want, but our fear holds us back. She steers clear of that noise. For every closed door that was thrown her way, she found a way to open it."
On relationships, Li feels that Maslan also offers solutions.
"Allison says to open your heart, even to love. She used "My Blast Off" process to find her soul mate. I was so totally pleased to know this could happen."
Maslan describes steps to launching your dreams into reality in clear, concise terms.
"I love her real life approach," adds Li. "The process helps you organize your goals and compartmentalize them so tasks are not so daunting. She gets you to reach for the sky while keeping you grounded with actual, practical tips on how to get there. The process is very concrete and I love the way she blends the practical with the dream."
The October issue of Me: In Focus spotlights the amazing entrepreneurs of Chicago. Maslan's book is the perfect fit.
"Our magazine is an entrepreneurial focus tied to the emerging entrepreneurial spirit in Chicago," said Li. "Books that focus on how-to are a growing market. We are all given important life choices. We need to be able to turn those choices into opportunities."
As Allison says, "Don't underestimate yourself – We all have something we are good at, let's see if you can turn that passion into profitability."
To receive a copy of Allison Maslan's book My Blast Off! for review, please contact DM Collins at 623.825.9122 Ext. 2 or by email at DM(at)DMProductionsLLC(dot)com
There is another strong tie between Maslan and Chicago. Currently the producers of the Oprah Winfrey Show are asking their fans to suggest guests for the 25th and final season. Maslan's fans and clients have begun an email campaign to place her as a guest on the Oprah Winfrey Show. To join in on the request for author Allison Maslan, go to https://www.oprah.com/ownshow/plug_form.html?plug_id=3337311
About Allison Maslan
Allison Maslan has been regarded as the most results oriented strategic life and business coach in the country. She has not only launched thousands of clients into healthier, happier lives and many into passion- filled businesses of their own, Maslan absolutely walks her talk. Starting her first business in college in 1985, Maslan went onto to build eight more successful companies while raising her daughter on her own. She also used her success formula to manifest and marry her soulmate five years ago. Her new book, Blast Off! The Surefire Success Plan To Launch Your Dreams Into Reality, was just released in January 2010 and hit #1 on Amazon in the US and Canada and made the best seller list in the UK. Allison was recently nominated for the San Diego Business Journal's Woman Who Mean Business Award. Website: http://www.MyBlastOff.com
About Me: In Focus Magazine
The name says it all. ME: IN FOCUS. That is what we're all about - focusing on what matters to you and all the many sides of you. Style Me, Entertain Me, Inform Me, Indulge Me, Inspire Me, Empower Me.
Founded in 2009 in Chicago and launched in 2010, ME: IN FOCUS was made for a different kind of woman - the modern, young (and young at heart) woman who craves something different - something more from a magazine than the standard fare. Our Website: http://www.MeInFocusMag.com
###