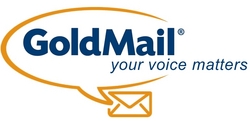 San Francisco, CA (PRWEB) September 17, 2010
GoldMail, the company that makes it easy to create on-demand presentations and messages, today released powerful add-ins for PowerPoint and Outlook. The add-ins, in addition to GoldMail, allow Office users the ability to explain slides in their own words and send the narrated PowerPoints in the body of an email.
Suddenly, PowerPoint users can bring their decks to life by narrating each slide in their own voice, contextualizing and personalizing the content. These powerful audio-visual messages can be sent by email – without leaving Outlook – or they can be published anywhere online. No longer do recipients have to guess what the PowerPoint means, they can listen to the creator explain and contextualize each slide. GoldMail and the Office add-ins are available for free at http://www.goldmail.com.
GoldMail's PowerPoint and Outlook add-ins – which are downloadable in seconds – are remarkably simple to use. There is no need for IT or high tech expertise; anyone can bring their static PowerPoints to life in a couple minutes or less. Then, with one click, the narrated PowerPoint is embedded in your email, and you can send it as you would any email.
"Our customers were tired of sending PowerPoint decks as attachments and finding the intended meaning was often lost. " said Tom Hakel, CEO of GoldMail, Inc. "Now GoldMail users can explain precisely what they mean," said Hakel, "and deliver the message in an on-demand format, saving a huge amount of time normally wasted with back-and-forth emails and voicemails."
"As an additional benefit, the sender of the audio-visual message – a GoldMail – can determine if the recipient has viewed the GoldMail and listened to the explanation," said Hakel. "This is a huge benefit, particularly for anyone in sales," he added.
GoldMail and the add-ins are free and have common applications that can help any size business:

Sales Presentations
Marketing Messages
Internal Communications
New Product Launch and Demonstrations
Training
Corporate Communications
About GoldMail, Inc. (http://www.goldmail.com)
GoldMail is simple to use, personal and super-convenient for sender and recipient alike. For More information on GoldMail and to download the Microsoft Office add-ins, visit http://goldmail.com/addins/office.html GoldMail is privately held and headquartered in San Francisco, CA, with presence in Boston, MA, Portland, OR and Cambridge, UK.
Contact:
Rita Comstock
Public Relations
(707) 953-3030
###