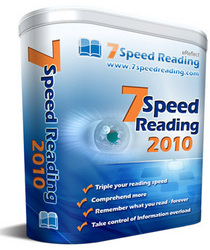 (PRWEB) September 18, 2010
A new speed reading program has users reporting that they are reading up to ten times faster than ever before in only seven minutes every day.
7 Speed Reading Software is a comprehensive speed reading system that uses the latest technology and proven methods to improve memory and comprehension. By using the software, users can take control of work overload by processing information faster, quickly read through emails and messages, save time by getting work done sooner, and gain more knowledge to preserver in today's knowledge economy.
7 Speed Reading Software is also the only program that trains users in:

Subvocalization elimination, which reduces the need for users to repeat words in their heads.
Regression elimination, allowing users to move forward without having to go back over what they have already read.
Fixation expansion, which lets users recognize large blocks of words together.
Eye muscle fitness, to reduce soreness from reading a high amount of words.
Full-brain utilization, which trains users to use more of their brains to process information faster.
Optic-nerve maximization, to increase the speed in which what the user sees reaches their brain.
Information processing, to improve the rate at which the user's brain can process data.
Memory, by training users to develop a near-photographic remembering system.
Comprehension, to retain near-perfect understanding of the words the user has read, despite the increase in reading speed.
Many users have reported that their reading speed has escalated to nearly 1000 words a minute – that is almost 60,000 words an hour. A novel can be finished in one sitting, while hundreds of unsorted emails can be read, processed and responded to in drastically reduced time.
Quotes
"I didn't think it would be possible to increase my reading speed by such a huge amount," says Desmond Tyler, a Communications Intern. "7 Speed Reading proved that not only can I plow through emails and briefs at an incredible rate, but that I can process the information much more quickly. This product really delivers what it promises."
"My reading speed went from about 150 words a minute to over 500 words a minute," says Emily Morris, a Systems Administrator. "It now takes me less than an hour to read emails that would normally take up the whole day! My productivity has increased, and my colleagues have noticed a giant improvement in my performance."
Quick Facts
The average job today demands nearly 30 times more reading than 10 years ago, and this amount is expected to increase even more over the next decade.
It is proven that processing information quickly is essential in today's knowledge-based economies. 7 Speed Reading software can make processing this vital information almost effortless.
Many speed reading programs and courses can cost thousands of dollars. 7 Speed Reading can be downloaded quickly and easily in minutes for less than seventy dollars.
Learn More
Visit http://www.7speedreading.com to learn more about this life-changing program.
###