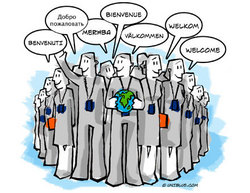 (PRWEB) September 17, 2010
Leading software utilities provider, Uniblue, has launched its website in several different languages in addition to the original English version. Uniblue.com is now available in German, French, Italian, Spanish, Dutch, Swedish, Danish, Norwegian and Japanese.
First launched in 2003, Uniblue has experienced exceptional growth, rapidly becoming a global force in the software utilities sector, producing easy-to-use programs that maximize PC performance and stability for computer users everywhere. As more and more people rely on their home PC or laptop to communicate via email, social networks and chat, make online purchases, obtain information and download media, then PC maintenance becomes ever more crucial to prevent slowdowns, crashes and other problems. Uniblue software titles, RegistryBooster, SpeedUpMyPC, DriverScanner and PowerSuite are helping millions of consumers to keep their computers stable and updated regularly, taking the place of a computer technician, but in a very straightforward interface that can be understood even by novice PC users.
Now that the software is available in numerous languages, even more people can take advantage of Uniblue's programs and this has led to phenomenal growth for the company on a global scale. With the launch of their multilingual website, customers can now find answers to FAQs, company and product information in ten languages, in line with the company's commitment to high levels of care and service for their customers worldwide.
About Uniblue Systems Ltd:
Uniblue Systems Ltd is a Microsoft Gold Certified provider of award-winning software products designed to deliver superior performance and stability to PCs everywhere. The company has achieved top rated reviews for its products, including PowerSuite, RegistryBooster, SpeedUpMyPC and DriverScanner. Uniblue software is now available in 19 languages. Uniblue is also a winner of 3 consecutive ICE awards.
Uniblue also provides the acclaimed ProcessLibrary.com, ProcessQuickLink and Filext.com resources; free services for all PC users, as part of its program of public education in the battle against computer threats and performance deterioration.
Press Contact
Hilary Rogers (PR Manager)
Uniblue Systems Ltd, Orange Point, Dun Karm Street, B'Kara By-Pass, Birkirkara BKR9037, Malta
Tel: +356 2327 5000
E-Mail: hilary(dot)rogers(at)uniblue(dot)com
Web: http://www.uniblue.com/
# # #