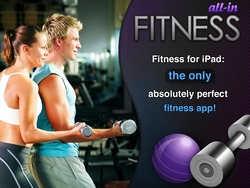 San Jose, CA, USA (Vocus) September 17, 2010
Viaden Mobile has launched Fitness for iPad – the app that brings high definition to both exercising and tracking the fitness routine day by day. Making the app easy to use yet crammed with helpful tools and options, the developer promotes healthy and fitness-conscious lifestyle.
What allows the app stand out in the Healthcare & Fitness category is its individualized approach to users and high quality. iPad users are a motley crowd, but all of them want roughly the same from a fitness app: their needs satisfied in the best way possible. Fitness for iPad manages to do the trick thanks to its original algorithm that caters for the needs of beginners, intermediate and advanced athletes, giving everyone what they need. Thanks to the 4 modes of workout selection, all fitness enthusiasts will be able to enjoyå just the perfect fitness routine: in Fitness for iPad it is possible to choose a ready-made workout or create a custom exercise sequence.
Understanding the importance of clear and exhaustive instructions for a productive and stress-free fitness session, Viaden Mobile included a large database of exercises with full text, photo, video and audio guidance. Users can choose exercises according to the equipment they want to use, if any, or the muscle group they want to train.
There is nothing like a personal trainer when it comes to fitness. This is why Viaden Mobile employed the special personal trainer concept in the app. No more walking in circles around the gym for beginners: based on the personal parameters and goals, the app will pick a fitness routine to match them. Also, there is an extra option that allows users ask a fitness-related question straight from the app and get an expert opinion about it.
To complement a proper fitness routine, Fitness for iPad offers efficient solutions for progress monitoring. The body tracker tool makes it possible to keep the changes in one's parameters under control by regularly entering body measurements. With the food tracker tool it is easy to keep record of daily activities and nutrition. It calculates the balance of the burnt and consumed calories, showing the total nutritional value of all eaten food.
Yuri Gurski, Viaden Mobile CEO, says: "All regular gym visitors and iPad users, our developers knew exactly what they were doing when creating Fitness for iPad. The app does its job perfectly, providing the necessary assistance both in the gym and outside of it, helping to track daily nutrition and activities and see how they contribute to the fitness routine. "
Fitness for iPad is now available on the App Store for $2.99
About Viaden Mobile
Viaden Mobile is an acknowledged producer of applications for iPhone/iPod Touch, iPad and other platforms. Its apps are among the most popular in the Healthcare & Fitness and Games categories.
###