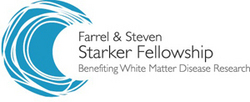 The Starker Fellowship gives us the opportunity to move novel science forward toward potential cures for diseases of the brain." -Jordana Holovach, Director, Jacob's Cure
Rye, NY (PRWEB) September 20, 2010
Jacob's Cure, a non-profit foundation created to find a cure for Canavan disease, a fatal genetic brain disorder that affects children, announced today that it will begin offering a fellowship in honor of long-time board members, Farrel & Steven Starker, to support new investigators working in the field of clinical research for white matter or neurodegenerative disease. The award will consist of $49,500 per year for two years.
The goal of the fellowship is to help bring research from the lab to the patients. The reviewers will be looking for researchers working on novel treatments that have the potential to have a positive impact one or more brain diseases in the near future.
"Since our inception ten years ago, Jacob's Cure has funded novel treatments that have improved the lives and life expectancies of Canavan children. We are proud that this work has spilled over to benefit other diseases, and we would like to continue to foster this collaborative environment by supporting research we can all learn from and utilize. The Starker Fellowship gives us the opportunity to move novel science forward toward potential cures for diseases of the brain," said Founder and Director, Jordana Holovach.
Initial funds for the Starker Fellowship were raised at the Jacob's Cure Inaugural "Dream Big" Gala in May, 2010 which was held at Pier Sixty, Chelsea Piers and raised 1.5 million dollars. Further information regarding the fellowship is available at http://www.jacobscure.org/fellowship
Media Inquiries: Sarah Goshman at +1.914.502.4249 ext 2, sarah(at)jacobscure(dot)org
About Jacob's Cure
Jacob's Cure is a 501c3 non-profit foundation dedicated to raising the funds necessary to cure Canavan disease, a fatal genetic brain disorder that affects children at birth. Because of an enzyme deficiency, an acid in the brain accumulates to dangerous levels causing catastrophic effects to the normal formation of myelin (white matter) in the brain that is responsible for transmitting nerve impulses from one part of the body to another. It is the lack of white matter that leaves Canavan children incapable of performing the simplest functions. Even if they live to their full life expectancy – 3 to 10 years untreated – they become blind, paralyzed, prone to seizures, and increasingly lost to the world around them.
Since its inception in September 2000, Jacob's Cure proudly allocates monies raised to research in gene-therapy, stem cell transplantation, pharmacological approaches and basic science in understanding the disease. Our efforts to date have resulted in successful gene-therapy trials and pharmaceutical interventions that have, in most cases, stopped the progression of this quickly deteriorating disorder in Canavan children worldwide. In fact, some of our groundbreaking work has led to trials for more commonly known disorders such as Parkinson's, MS and ALS. Our goal is now the cure. In collaboration with several research labs and the biotech industry, our efforts and funding is moving research towards an exciting stem cell clinical trial for Canavan children worldwide. You can follow Jacob's Cure at http://www.facebook.com/jacobscure and http://www.twitter.com/jacobscure. For more information, please visit http://www.jacobscure.org/
###