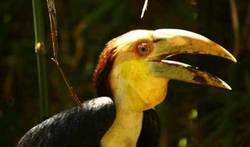 Oakland, CA (Vocus) September 18, 2010
Oakland, CA, September 16, 2010 -- After being in a nest for 134 days, a healthy Wreathed Hornbill has emerged from the nest. The baby is the first successful hornbill hatchling in more than ten years at the Oakland Zoo. The baby has a small bill, blue eyes, and is nearly the size of its parents. However, the adult characteristics of its pouch coloration and casque (horn covering) will take about a year to develop. The sex of the baby is unknown at this time.
Wreathed hornbills often do not breed well in captivity. They require a very specialized habitat, specific diet, and special nest. Wreathed hornbills mate for life. During the nesting period (100+ days), the female hornbill seals herself up in the nest and is completely dependant on the male for all her food. Hornbill hatchlings are altricial, meaning they are helpless at birth and require constant care. Throughout the nesting period, zookeepers kept track of dates, monitored the male, and made sure the female was being fed a proper diet while encapsulated in her nest.
The Oakland Zoo currently has a total of three Wreathed Hornbills (male is nine years of age; female is nineteen years of age, and the baby hornbill is around three months of age).
About Oakland Zoo
The award-winning Oakland Zoo is home to more than 660 native and exotic animals. Nestled in the Oakland Hills, in 525 acre Knowland Park, the Zoo is located at 9777 Golf Links Road, off Highway 580. The East Bay Zoological Society (Oakland Zoo) is a nonprofit 501(c)3 organization supported in part by members, contributions, the City of Oakland, and the East Bay Regional Parks. For more information please visit our website at http://www.oaklandzoo.org.
###