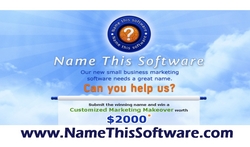 This software is a tool that provides business owner's with simple, easy to implement and proven strategies designed to increase sales traffic at a fraction of the cost associated with hiring a marketing firm or consultant.
Jacksonville Beach, FL (PRWEB) September 18, 2010
Keeping with the Founder's vision to help small business succeed, they are hosting a 'Name This Software' contest that will help one lucky winner give their business a custom marketing makeover.The product to be named via the contest, found at http://www.NameThisSoftware.com, guides a small business owner through choosing appropriate marketing strategies proven to help increase sales and awareness of their business. It helps them schedule marketing campaigns and provides them with step by step tasks that are executed to ensure success. It also provides tracking, accountablitily and resources to aid in the ultimate goal of cost effective marketing. The sofware is designed so that the user needs only to provide basic business information and small increments of time. With over 100 detailed strategies and expert tips, the success rate of the marketing campaign is greatly increased.
With over 40 years of combined marketing experience, the entrepreneurs behind SBHBTools.com have seen many small business owners struggle to effectively market their business. As not only business coaches, but also business owners, both Kimberly Deas and Peter Ennis understand the struggles that a small business faces when trying to allocate their marketing dollars to get the greatest return on their investment. Says Ennis, "Just because someone is a great mortgage broker, real estate agent, doctor, attorney or CPA does not automatically guarantee success for their business. This software will allow them to focus their time on doing what they do best while providing a system that turns their contacts into clients."
In this economy, it is even more vital that small businesses are effective with their marketing dollars. This software provides both marketing expertise and a step by step system to guide small business owners through the complexities of a marketing campaign. It removes the need to hire an expensive marketing firm or consultant that most small business owners simply can not afford. "This software will 'spoon feed' the small business owner the tasks and tools neccessary to market their business." says Kimberly.
The contest to name this software will be launched with a webinar intorducing the product and it's features. All submissions can be made via the website http://www.NameThisSoftware.com
###