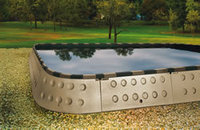 Cleveland, OH (PRWEB) September 18, 2010
According to EPA and SPCC regulations, secondary containment systems are mandatory for all industries dealing with hazardous materials. Polystar offers a containment system designed to absorb the impact of a catastrophic tank failure while simultaneously preventing hazardous chemical spills.
The Poly Dike MPE is Polystar's heavy-duty, surface-mounted, reusable secondary containment system for storage tanks. It sets up quickly and easily and doesn't require any special tools, lifting equipment or engineering assets. In addition, because it's comprised of lightweight, modular and flexible wall struts, it can be configured to accommodate many different tank sizes and capacities.
The system is structurally sound with wall struts that are tied together by a heavy-duty, woven nylon Harness Assembly. On all four sides of the Harness Assembly are pigtails ending in solid steel D-rings. These D-rings slide into custom-designed slots in the wall struts where they are then anchored in place by a Locking Connector.
When a catastrophic tank failure occurs, it creates a powerful wave of fuel that hits one side of the Poly Dike MPE secondary containment system. Its Harness Assembly system withstands the wave's force without movement and its powerful wall struts force any flow back into the system to prevent spillage.
Because the Poly Dike MPE is not secured to the storage tank's substrate, it is a good solution for long-term or temporary use in parking lots, sand, rocky soil, muddy soil, frozen soil or concrete areas.
The Poly Dike MPE is an important asset for companies working with storage tanks that contain hazardous materials, because it has the structural strength necessary to prevent damaging spills from occurring. The Poly Dike MPE is recognized for its ability to provide low-cost secondary containment for moderate-sized tanks and tank farms.
About Polystar Containment
Polystar Containment manufactures, distributes and installs a variety of spill containment and secondary containment. Their unique containment solutions are the best return on investment for your environmental compliance dollar.
Polystar specializes in secondary containment systems for rail tankers, truck tankers and AST (above ground storage tanks) that store hazardous materials. Their spill prevention systems help achieve SPCC compliance for refineries, class one rail and railcar companies, general industry, well services, hydraulic fracking and drilling companies, and military and government entities.
###