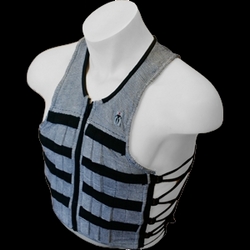 These versatile tools can add some interesting variety to your home gym without sucking up a lot of space.
Sydney, Australia (PRWEB) September 17, 2010
HF Industries has added the Hyper Wear® line of innovative fitness products to the broad range of international brands they represent. HF Industries is pleased to offer safe and effective SandBell® sandbag weights and the Hyper Vest® PRO weight vest.
Hyper Wear's innovative, sand-filled, neoprene, sandbag weight, the SandBell, has proven to be a safe and effective alternative to dumbbells, kettlebells and medicine balls in strength rooms for pro sports, health clubs, home gyms, military and classroom settings.
Muscle and Fitness Magazine says: "These versatile tools can add some interesting variety to your home gym without sucking up a lot of space. We like the dynamic options they give you. Not only can you use them like traditional weights, but you can also throw them, drop them, heave them and, when all is said and done sit on them after your workout."
The Hyper Vest has been featured in Australia's Men's Health Magazine, who called it the "best weight vest we have found." The Hyper Vest is adjustable to weigh from 5 to over 50 lbs, and is the thinnest and coolest weight vest ever made. Perfect for running or walking in addition to its known benefits for strength and speed training for athletes. So thin you can wear it under a shirt to burn extra calories for weight loss all day long.
Hyper Wear President and founder Cosmo Raines explains: "The SandBell and Hyper Vest are the most promising new strength and fitness tool to come to market in a very long time, and we are proud to be associated with a great company like HF Industries."
About HF Industries:
HF Industries is a family owned and operated business that has been prominent in the Australian Fitness Industry for more than 30 years. We represent US based equipment brands such as StarTrac, FreeMotion, Balanced Body Pilates, Ab Coaster, Marpo Kinetics, and Power Block.
HF Industries Pty Ltd
Media Contact: Casey Bawden
Email: cbawden (at) hfindustries (dot) com.au
30 Alexander Ave
Taren Point, NSW, 2229
Website: http://www.hf.com.au
Toll Free: 1800 633 009
About Hyper Wear:
Hyper Wear, LLC (Hyper Wear®), was founded to bring innovative products to market in the areas of fitness, health and wellness. Its innovative products include the Hyper Vest® Pro weight vest, Hyper Vest Cool™ ice vest for pre-cooling and recovery, SandBell® sandbag weights and SteelBell™ steel shot filled weights. In May 2009, Men's Health Magazine described the Hyper Vest the best weight vest, and Hyper Wear's products have also been featured in Men's Health Australia, Muscle and Fitness, Men's Fitness, Women's Health, the L.A. Times, and Chicago Tribune. For more information on Hyper Wear, http://www.hyperwear.com email suzi (at) hyperwear (dot) com, or call toll free 888-460-0628.
###