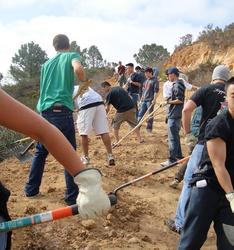 "ESF is proud to be working with various organizations to address many of the major issues facing Americans today; affordable housing, inadequate healthcare, and a lack of funds for neighborhood revitalization."
San Diego , CA (PRWEB) September 17, 2010
The Empowering Spirits Foundation (ESF), a national lesbian, gay, bisexual and transgender (LGBT) civil rights organization will hold its "Proud Hearts Reach Out" service events across the nation on October 9, 2010 as a pre-kick off to National Coming Out Week.
For Proud Hearts Reach Out 2010, ESF has collaborated with the Department of Defense Federal Globe (DOD FED Globe), Habitat for Humanity, TexTango, MyOutSpirit.com, and Equality Alabama; to once again participate in a day of service-oriented events designed to allow LGBT individuals to work side-by-side with their non-LGBT counterparts.
The goal of ESF's Proud Hearts Reach Out is to open and develop channels of communication between both communities.
The events will take place between 9am and 4:30pm in cities throughout the US. Such events include but are not limited to assisting the San Diego Park and Recreation Department restore Gonzalez Canyon in Del Mar, CA; assisting Habitat for Humanity start construction of a new home for the Flamen family in Birmingham, AL; assisting Second Harvest Food Bank of Middle Tennessee serve the hungry in Nashville, TN; assisting the DuMond Conservancy for Primates and Tropical Forests in Miami, FL, and assisting the New York City Department of Parks and Recreation and Partnerships for Parks to help restore a park in Manhattan, NY.
"ESF is proud to be working with various organizations to address many of the major issues facing Americans today; affordable housing, inadequate healthcare, and a lack of funds for neighborhood revitalization," said A. Latham Staples, ESF President and CEO.
"These issues affect people of all sexual orientations," said Staples. "This year's day of service is not only a great opportunity to help those in need, but to also work side by side with non-LGBT individuals in a non-partisan manner in an effort to engage in dialogue, promote understanding and equality."
"Any time we build coalitions through mutual efforts with the greater society, huge strides are made in educating the public," said Lisa Kove, Executive Director of DOD FED Globe. "Once those that might not have previous exposure to, or understanding of the LGBT community, find themselves in a situation where they're working alongside us, barriers and misconception are broken down."
Said TextTango Vice President Rudy Camacho, "TexTango's decision to partner with ESF was a no-brainer. As a mobile advertising company, our goal is to bring brands and consumers together. On a more humanistic scope, we also embrace opportunities to connect people supporting the greater good, regardless of sexual orientation or sexual identity."
Volunteers are asked to visit http://www.empoweringspirits.org to R.S.V.P. For more information on this and other events please visit http://www.empoweringspirits.org, or call (858) 523-8201.
About the Empowering Spirits Foundation, Inc.
The Empowering Spirits Foundation, Inc. (ESF), a national 501(c)(3) non-profit, is a non-partisan civil rights organization working to achieve lesbian, gay, bisexual and transgender (LGBT) equality through community service activities. Since its inception ESF has been taking the struggle for LGBT equality into the next era by fostering non-confrontational dialogue with individuals and institutions that may have not previously supported LGBT populations. Instead of attempting to change laws ESF strives to change the hearts and minds of those who are generally ignored by existing LGBT organizations.
###