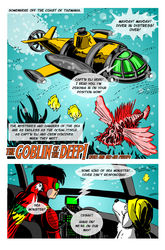 Jay Piscopo's "The Goblin of the Deep" neatly ties information about undersea life into a cool short story." ~ Gordon Dymowsky
Portland, ME (PRWEB) September 17, 2010
Deep off the coast of Tazmania, the distress call is sent: divers are trapped in a cave by a giant sea monster! Heeding the call in his mini-sub, the Dolphin, is Capt'n Eli, intrepid Sea Explorer and inventor. In the endless depths he discovers everything is not as it seems.
"The Goblin of the Deep" is a new 6-page Capt'n Eli story by Maine comic book author and illustrator Jay Piscopo. This story is featured in Reading With Pictures' first anthology. "Reading with Pictures – Volume 1" is a full color, 192 page collection of works by more than 30 comic creators. A full list of contributors can be found at this link: http://readingwithpictures.org/Reading_With_Pictures/Anthology_Creators.html.
Reading With Pictures is a Chicago-based nonprofit organization that advocates the use of comics in the classroom to promote literacy and improve educational outcomes for all students. There is a trend in education towards using graphic novels as a teaching tool to motivate and inspire students. Comic books and graphic novels are now being used in classrooms as tools for teaching everything from early reading to course texts for college. A collection of articles on this topic can be found at this link: http://bookshelf.diamondcomics.com/public/default.asp?t=1&m=1&c=20&s=165&ai=37674.
Piscopo is the author and illustrator of "The Undersea Adventures of Capt'n Eli" graphic novel series.
"Reading With Pictures – Volume 1" is available nationally at fine comic shops, including Casablanca Comics in Portland and Windham, Maine. The book can also be purchased in the store section of the Capt'n Eli website.
On Saturday, October 23 Casablanca Comics will host a special signing with Jay in Portland, Maine. A recent review can be found at this link: http://www.blogthispal.com/2010/08/getting-schooled-in-comics-anthology.html.
More about Jay Piscopo: Piscopo has been making state-of-the-art children's entertainment for 20 years. He served as an art director at Tom Snyder Productions, where he led the creative team in the production of educational CD-ROMs, including the award-winning "Fizz and Martina Math Adventures" and was as an animator on the ABC Saturday morning show "Squigglevision." He was also the co-creator of the internationally distributed comic book series featuring the world's first disabled superheroes, "The Scrap City Pack Rats," which he created in partnership with Goodwill Industries. Jay is an engaging presenter who has conducted hundreds of comics workshops and classroom events teaching drawing and storytelling techniques. He resides in his hometown of Portland, Maine.
More about "The Undersea Adventures of Capt'n Eli": With his companions Jolly Roger, a 200-year-old parrot, and the faithful seadog Barney, Capt'n Eli takes readers into a mesmerizing world of time travel, high-tech ships, flying mini-subs, robots, lost civilizations, and undersea empires in conflict. Volumes 1 and 2 are available now and Volume 3 is scheduled for release later this year. This series is published by Nemo Publishing and distributed nationally by Diamond Comics Distributors. Read more about the series at this link: http://www.captneli.com/gnseries.php.
A full overview of Nemo Publishing's educational offerings can be found at this link: http://captnelikids.blogspot.com.
Capt'n Eli's origins are quite unique. He's the namesake of real-life World War II veteran Eli Forsley from Gray, Maine who was also the inspiration for a line of hand-crafted sodas from Portland, Maine. Read more at this link: http://www.captneli.com/gnseries/storybehind.html.
###