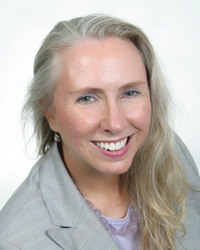 People always laugh when they hear the name, and I'm having fun with it, too. Why not?
Neptune Beach, FL (PRWEB) September 24, 2010
What do you do when some anonymous guy makes fun of you? One Florida woman is turning it into her new line of business.
OldMaidCatLady.com is finding its niche, in part, thanks to a comment posted on a front-page news story about Lynn Maria Thompson and her then 21-year-old cat, Vixen.
"I'd just lost my mother a few months before, and the Florida Times-Union story was a nice little thing that happened when I really needed a boost," says Thompson of the incident. "People were calling and e-mailing to congratulate me. Then I looked at the comments online. Some guy had written, 'There's nothing worse than an old maid cat lady.'
"At first, I was insulted and a little hurt. But then it became amusing; nobody uses that term any more to refer to single ladies of a certain age, and people who know me certainly don't think of me as an 'old maid'! My next thought was that it would make a really good brand for the e-commerce site I'd been researching."
And so the branding was chosen. Thompson attended a presentation by Stores Online and selected them to host her new enterprise.
"They have really good training on search engine optimization (SEO) and driving traffic to your site. Knowing those are important, I like that about them," she says.
After some training and a little trial and error, she took the site live in February. It now features over 1,100 products for cats and cat lovers.
"I want to offer things people can't find in local pet stores," says Thompson, who has operated a writing and editing business since 2003. "Many times through the years, I've been looking for something unusual for my own cats and can't find it anywhere. My customer profile is other people like me, who want something more than what's already out there. Their cats are like children to them."
New media are a big part of Thompson's marketing plan. She has set up Facebook and Twitter pages for the retail site, as well as marketing it through traditional methods like flyers and business cards handed out at networking events. For the logo, she hired IDesignYourLogo.com, which included a plug on their blog that boosted traffic to its highest number up to then. She runs a modest Google AdWords campaign and plans to expand it soon.
She just hired Stores Online to handle link building for her. As of September 16, OldMaidCatLady.com ranked 1,168,356 worldwide, and 166,450 in the U.S. on Alexa. Alexa ranks websites on the number of visitors they receive; to provide perspective, Google is #1 on Alexa and Facebook is 2.
"Considering that when I started tracking my Alexa ranking in June it was above six million, I think to move up over 5 million spots in a couple of months is pretty good!" says the new e-tailer.
Thompson is closely tracking visitors by day and hour. Average daily visitors to the retail site improved over 30% from July-August, while sales were up over 400%. Once more data is accumulated she will use it to determine the best launch times for promotions to followers.
Another marketing strategy is to share OldMaidCatLady.com's proceeds with others. Each week, a different group is featured on the site's home page as Cat Champions of the Week and receives 10% of proceeds. "There are so many people trying to help homeless or disabled cats and more wild cat sanctuaries than I'd ever imagined," says Thompson. "I couldn't just select one to help, so I try and feature lesser-known groups, trumpet their actions to the world and share ideas with other nonprofits." From a marketing standpoint, the program introduces new people to OldMaidCatLady.com. While it's taking longer to make an impact on sales than originally hoped, she plans to continue and has groups scheduled into mid-2012.
"The site's still a work in progress, and probably always will be," notes Thompson, who constantly seeks new products to feature. "I concentrated first on finding things for the cats, and I'm really proud of the variety on the site. Now the focus is more on the 'people-products' side." Thompson attends trade shows and markets to find products, and all are shipped directly to customers from the manufacturers or distributors.
Finding suppliers willing to drop-ship for her has been less of a challenge than she'd anticipated, and the strategy helps lower costs that would soar if she had to maintain inventory in a warehouse -- an important factor at a time when funding for small businesses is scarce. In areas where suppliers are not available, she has filled in with products offered by affiliated retailers, on which she earns a small commission. These include pet insurance providers and lost-pet services. "It's nowhere near what I make having my own suppliers and I have no control over pricing or discounts with the affiliate products, but it's better than having a store site with empty pages," she says. Notable lines she carries include the Pet Alive supplements from Native Remedies, Kittywalk Systems' outdoor pet enclosures, and cat trees from Pet Tree Houses. Her most recent additions are the WhimsiClay line of collectible cat figurines by artist Amy Lacombe and the Kritter Kondo outdoor screen enclosures for pets.
OldMaidCatLady.com can't compete on price with major pet retailers like PetSmart, PetCo or Pet Supermarket, so Thompson has positioned her e-tailing site more as a boutique. "While there is some overlap in the products for cats, my site carries a lot of items the bricks-and-mortar pet retailers don't have space or a large enough demand to carry," she explains. "And featuring a good assortment of cat-themed products for people in addition to the cat stuff helps differentiate me, as well."
Thompson meets resistance from some suppliers, who feel that they're being loyal to their traditional retailers by refusing to do business with her. "They got burned in the past by ultra-discount e-tailing sites who were undercutting their customers on price, and they think we're all like that. But that's not my business model, and the people who shop those sites are not my customers," she says. As more people enter the e-commerce world seeking a low-overhead business model, she sees things starting to change. "Several suppliers I've spoken with at trade shows said they hadn't offered a drop-ship program in the past, but are considering it now."
Still to be developed is OldMaidCatLady.com's selections of original artwork. "I want to give artists who feature cats in their work an opportunity to market it nationwide," she says. "My clientele are cultured people who appreciate art and would be a good audience for them." Thompson is developing marketing materials to distribute to galleries and artists' co-ops that will introduce her site to more artists. Her wish list includes virtual assistants to help with site monitoring and maintenance, an e-newsletter to past customers, order processing and social networking.
By the time OldMaidCatLady.com is a year old, Thompson wants it to be on the first page of search results for all her major keywords. "That's a pretty tall order, but it's doable," she says. "There are a few other e-tailers similar to me. That was one part of my research that let me know there's a market for these products. I'm not doing bad for a site named after a hurled insult! People always laugh when they hear the name, and I'm having fun with it, too. Why not?"
And what of Vixen, the cat featured in the original news story with Thompson? "She's now 22 years old and still going strong...and she's the face of OldMaidCatLady.com online!"
###